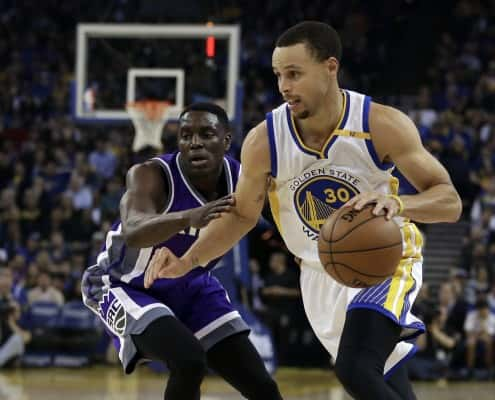 Klay Thompson scored 35 as the Warriors 2nd half explosion vanquished the Kings.
By Cole Reece| February 16th
It was truly a tale of two halves for Golden State on Wednesday night at Oracle Arena. The Warriors only produced 47 points of offense in the 1st half in what appeared to be a collective lack of focus before the all-star break. The Dubs outscored the Kings 19-9 in the opening minutes of the contest. Sacramento reeled the Warriors back to within their grasp and remained close enough to strike. Golden State escaped the 1st quarter with a (28-25) advantage over the visiting Kings. In the final minute of the first half, Draymond Green's frustration boiled over. Following a foul call on Green while guarding Cousins, Draymond went berserk. His choice words for the officials earned him two technicals and a seat in the locker room for the remainder of the game. Meanwhile, the Kings took a (50-47) lead into the locker room at halftime. In the third quarter, the Warriors began an onslaught that secured their 47th victory of the year. Klay Thompson was the architect scoring 35 points while going 7-12 from distance. Early in the 3rd Klay splashed a three-pointer that gave the Dubs a (60-57) lead. What followed was an impressive effort on both ends of the floor. Golden State went on a 22-0 run en route to a 42 point 3rd quarter. The Warriors starters finished their assault with a 10-2 run in the 4th quarter. Steve Kerr inserted the reserves to close out what became a Golden State blowout win against Sacramento (109-86). Up next Draymond, Kd, Steph, and Klay head to the all-star game in New Orleans. Golden State gets the week off until next Thursday when the Clippers visit Oracle Arena at 7:30 pm.
Stars of the game: Klay Thompson 35 points 5 rebounds and 4 assists. Kevin Durant 21 points on 10-15 shooting 7 rebounds and 7 assists.