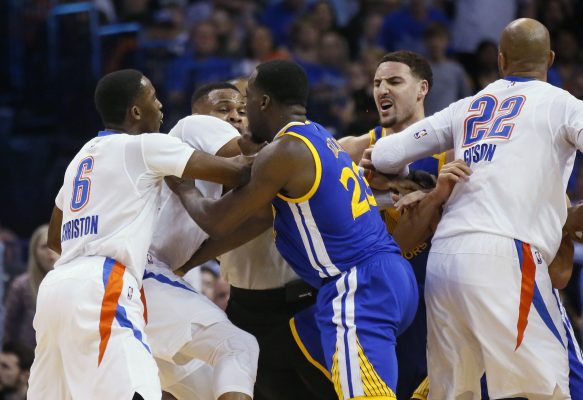 The Splash Brothers took care of business as they led Golden State to a 111-95 victory.
By Cole Reece| March 20th
In the final regular season matchup against OKC, the Warriors took care of business. Golden State played with pace and purpose as the Thunder learned the hard way they can't compete with the Dubs. OKC hung with the Warriors who struggled to find their offense in the 1st quarter. The bay's team left no doubt in the remainder of the contest as to who the better team is. With the game tied at 25, Golden State outscored the Thunder 34-17 in the 2nd quarter. The exclamation point came in the closing seconds of the first half. Both teams set up for a jump ball when Steph Curry and Semanj Christon got into a shoving match. Four players received technicals but Golden State was not phased. After winning the tip Klay Thomspon threw a home run pass that Steph drained for a buzzer-beating three-pointer. At halftime, the Warriors held a 59-39 advantage over the hometown Thunder. The Splash Brothers remained front and center in the scoring department. Klay Thompson posted 34 points while getting any shot he desired tonight. Steph was no slouch either with 21 points with 7 three-pointers. On top of the stellar offensive play, the Dubs won all the 50/50 battles. They took care of the little details and rewarded themselves on the offensive end. Russell Westbrook was held to just 15 points. As a team, the Thunder were limited to 42% shooting by a Golden State team who had everything going for them. With their fantastic effort, the Warriors took home an 111-95 victory over OKC. Up next the Dubs face off with the Mavericks tomorrow at 5:30 PM.
Stars of the Night: GSW: Klay Thompson 34 points, 6 rebounds, 2 steals. Steph Curry 23 points, 7-12 on three's, 6 assists.