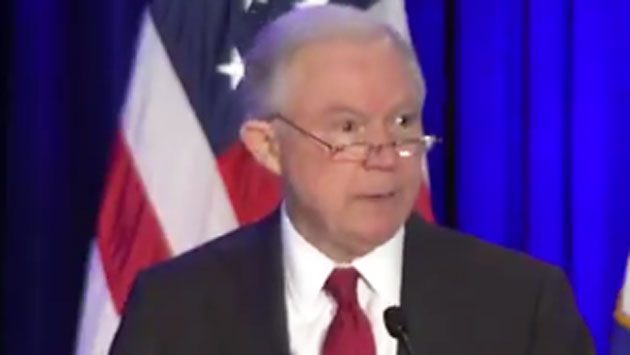 ABC News
ABC News(WASHINGTON) — Attorney General Jeff Sessions sparked controversy Monday after making reference to the "Anglo-American heritage of law enforcement," a comment interpreted by critics as racially insensitive.
The remark was made in a speech to the National Sheriffs' Association's winter conference in Washington, D.C., as he thanked those in attendance and outlined the history of their positions in law enforcement.
"I want to thank every sheriff in America. Since our founding, the independently elected sheriff has been the people's protector, who keeps law enforcement close to, and accountable to, people through the elected process," said Sessions, adding, "The office of sheriff is a critical part of the Anglo-American heritage of law enforcement."
While the attorney general's phrasing alone caught the attention of many on social media, the situation was further complicated by the fact that the description was not included in a copy of Sessions' prepared remarks.
In that version, distributed by the Department of Justice after the event, the line reads: "The Sheriff is a critical part of our legal heritage."
Among those who weighed in on Sessions' speech included Sen. Brian Schatz, D-Hawaii, who called the phrase a "dog whistle" and expressed continued pride in his opposition to the attorney general's nomination last year, and California Lt. Gov. Gavin Newsom, a candidate in the state's 2018 gubernatorial election, who called Sessions an "outright racist."
In 1986, Sessions' nomination for the U.S. District Court for the Southern District of Alabama was rejected by the Senate Judiciary Committee after associates testified during his confirmation hearings that the then-U.S. Attorney had made callous comments about the NAACP and Ku Klux Klan. Sessions said at the time that the remarks were not intended to be taken seriously.
Defenders of Sessions argued Monday that "Anglo-American law" is a term frequently used in legal circles as a synonym for "common law," and has no racial undertones.
The stance did not prevent the NAACP from issuing a response to the speech to The Washington Post in which it characterized the comment as "racially tinged," and said it should give "all people reason to worry."
"His decision to link the term Sheriff to some part 'of the Anglo-American heritage of law enforcement' is an unfortunate yet consistent aspect of the language coming out of the Department of Justice under his tenure," the statement continued, "and in the opinion of the NAACP, qualifies as the latest example of dog whistle politics."
Copyright © 2018, ABC Radio. All rights reserved.