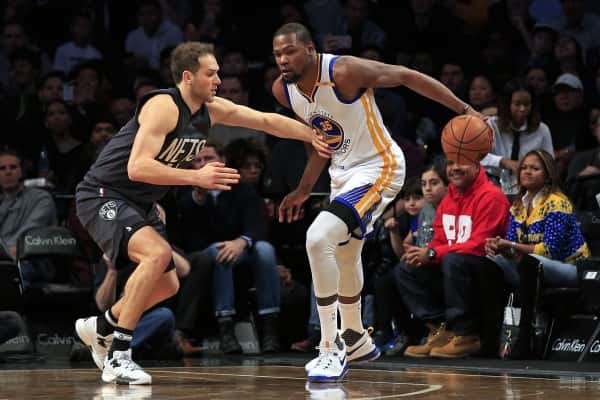 Golden State Warriors forward Kevin Durant (35) is defended by Brooklyn Nets guard Bojan Bogdanovic during the first half of an NBA basketball game Thursday, Dec. 22, 2016, in New York. (AP Photo/Adam Hunger)
Kevin Durant led the second half surge as the Warriors scored 39 points in the 3rd. 
By Cole Reece| December 22nd
The big story headed into this game was the absence of Draymond Green. The Warriors forward was in the bay area celebrating the birth of his son. Early in the 1st quarter Lopez and Bogdanovic capitalized on the glaring hole in the Warrior's defense. Together they combined for the first 18 points for the Nets. Golden State quickly found themselves down (20-12). Steve Kerr made some substitutions that helped the Dubs rebound and get back into the game. At the end of the 1st, Golden State trailed by 1 point (34-33). Brook Lopez continued his dominance in the 2nd half. He gashed the Warriors for 23 points in the first half. The wheels absolutely fell off as Golden State could not get a defensive stop. To make matters worse, the Dubs couldn't buy a three-pointer. Headed into halftime Brooklyn played their way to a 16 point lead over Golden State (65-49). Everything changed in the 2nd half as the Warriors fought their way back into the game. The defense made a comeback for the ages and forced the Nets into 18 turnovers in the 2nd half. A tremendous 21-5 Warriors run tied the game up at 70 points. Kevin Durant took over the game and exploded for 17 points in the final 2 quarters. He would finish wit 26 points on the night. Curry led the way on defense with an impressive 5 steals. The Dubs headed into the final quarter having outscored the Nets (39 -19) in the 3rd quarter. Golden State shut down the nets and defeated the Nets by the final score of 117-101. Zaza Pachulia contributed 15 points and 14 rebounds for a double-double. It was far and away his best game as a Golden State Warrior. The Bay's team returns to action tomorrow night against the Detroit Pistons.