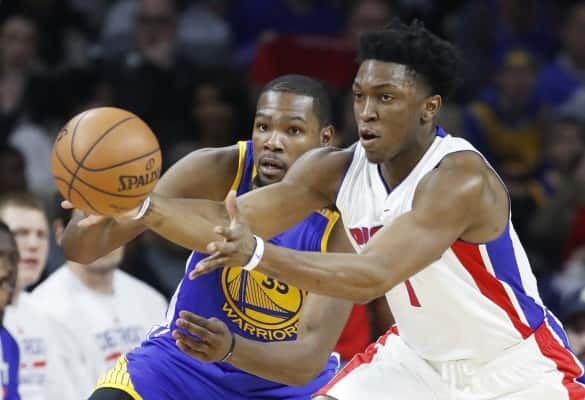 Detroit Pistons forward Stanley Johnson steals the ball away from Golden State Warriors forward Kevin Durant during the second half of an NBA basketball game against the Detroit Pistons, Friday, Dec. 23, 2016, in Auburn Hills, Mich. (AP Photo/Carlos Osorio)
Warriors close out the Pistons in the closing minutes to take home a 119-113 victory.
By Cole Reece| December 24th
Coming off their come from behind win over the Nets the Warriors faced off against the Detroit Pistons. There was extra motivation for the Dubs after losing in Detroit last year. It was another perplexing first half for the Warriors. They committed 12 turnovers through 2 quarter of play the Pistons were handling the Warriors. It wasn't a 16 point hole, but the Dubs trailed the Pistons (59-57). Detroit got tremendous production from Tobias Harris who scored 26 points against Golden State. The Warriors gifted turnover after turnover to the Pistons who scored 33 points off those mistakes. It was a season high in turnovers for the Bay's team. Detroit played with confidence they were not afraid of the challenge the Dubs presented. The game swayed back and forth 18 lead changes occurred during the game. Golden State turned to Kevin Durant once again Durant played another huge game with 32 points on the night. Detroit appeared to take command in the 4th quarter taking a (95-90) lead thanks to an 11-2 run. The Warriors bared down and willed their way to a victory. The game remained a close one until the closing minute. Golden State finished on a 9-3 run thanks to Klay Thompson and Draymond Green. The Dubs head to Cleveland with an 119-113 victory in their pockets. It was a hard fought game against Detroit, and the stakes will be even higher in the Finals rematch on Sunday.