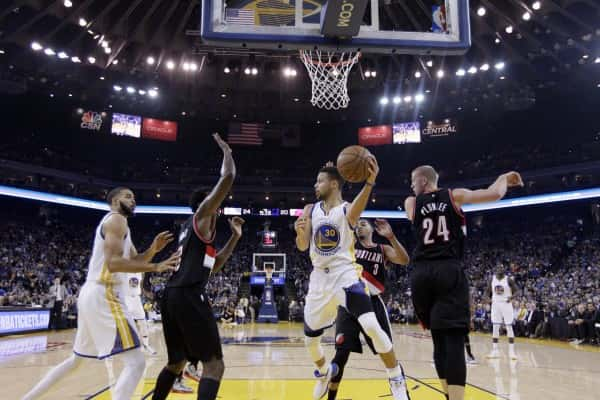 Golden State Warriors' Stephen Curry (30) looks for a pass under the basket against the Portland Trail Blazers during the first half of an NBA basketball game Wednesday, Jan. 4, 2017, in Oakland, Calif. (AP Photo/Marcio Jose Sanchez)
Steph Curry dropped 35 points while Durant added 30 to down McCollum and the Blazers.
By Cole Reece| January 4th
Following a 45 point loss in the previous matchup against Golden State, Portland would be without Damian Lillard. The Warriors opened the game on fire from three-point range. The Dubs were 4/4 until Curry attempted a 35 footer. Portland spread the ball around and got everyone involved in the scoring. Golden State, on the other hand, got the Blazers into transition and forced them to run. Kevin Durant had the play of the night as he blocked Turner and Plumlee on back to back shots. KD then nailed the transition three-pointer to bring the crowd into a frenzy. There was no shortage of offense as the Warriors led the Blazers (40-34). McCollum picked up the slack without Lillard as he had 14 points in the opening frame. Golden State was 7/13 from beyond the three-point line. With Durant leading the 2nd unit the Warriors pushed their lead to 13 (49-36). Both he and Steph brought their A game. Portland made the Dubs play on seemingly every turnover. In the 2nd quarter led by McCollum the Blazers torched the Warriors. They gave Golden State a taste of their own medicine as they were unstoppable from distance. Cj scored 26 points, and Durant had 21 points in the first half. Portland held a 2 point lead with a (71-69) advantage over the Dubs. Turnovers were a big reason why the Trailblazers held the lead. Draymond Green's passing launched the Warriors over the Blazers in the 3rd. The heartbeat of the Dubs got dunks for Durant and open looks for Curry and company. Zaza Pachulia has gotten more involved in Golden States offense in recent games. He had another fantastic game tonight with 13 points. The defense rebounded in the 3rd and slowed the potent Blazer's offense. The tandem of Curry and Durant lit up the scoreboard against Portland. Curry finished the night with 35 points 7 rebounds and 6 assists. Durant contributed 30 points 5 rebounds and 4 assists. Golden State shut down McCollum in the 2nd half, holding the Portland guard to just 9 points. Warriors take home the win over the Blazers by the final score of 125-117. The Dubs return to action on Friday looking to dish out some payback to the Memphis Grizzlies.