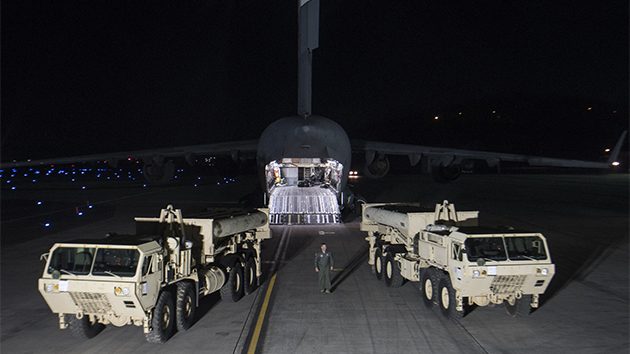 United States Forces Korea
United States Forces Korea(SEOUL) — The United States has begun to set up an anti-missile system in South Korea to help protect that nation from a possible North Korean attack. The arrival of the first elements of the system had been long-planned but occurred the day after another round of provocative North Korean missile tests.
The Terminal High Altitude Area Defense (THAAD) system is designed to intercept incoming short- and medium-range missiles. The United States and South Korea announced in July 2016 that the system would be deployed to South Korea following a series of North Korean missile launches last year.
The arrival of the first elements of the THAAD system arrived the day after North Korea fired four medium-range missiles into the Sea of Japan, some of them traveling as far as 600 miles. A U.S. defense official said the system's arrival in South Korea was coincidental and had been long-planned.
"The timely deployment of the THAAD system by U.S. Pacific Command and the Secretary of Defense gives my command great confidence in the support we will receive when we ask for reinforcement or advanced capabilities," said Gen. Vincent K. Brooks, the commander of U.S. Forces Korea. The United States maintains 28,500 troops in South Korea to help deter any North Korean aggression.
"Continued provocative actions by North Korea, to include yesterday's launch of multiple missiles, only confirm the prudence of our alliance decision last year to deploy THAAD to South Korea," said Adm. Harry Harris, commander, U.S. Pacific Command. "We will resolutely honor our alliance commitments to South Korea and stand ready to defend ourselves, the American homeland, and our allies."
The deployment of the missile system has experienced many delays since last summer's agreement between the United States and South Korea to deploy the system. Just last week the United States and South Korea announced the missile system would be located on a golf course 135 miles southeast of Seoul that had been acquired by the South Korean government.
The THAAD system's deployment has been opposed by China which has claimed it could contain its own missile systems and security interests in the region. American defense officials have countered that the system is strictly defensive in nature and intended solely for South Korea's protection.
President Donald Trump spoke by telephone on Monday with Japanese Prime Minister Shinzo Abe of Japan and South Korea's Acting President Hwang Kyo-Ahn to discuss the latest North Korean missile launches.
According to a White House readout of the calls President Trump "emphasized that his administration is taking steps to further enhance our ability to deter and defend against North Korea's ballistic missiles" and that the three agreed "to demonstrate to North Korea that there are very dire consequences for its provocative and threatening actions."
Also on Monday, Defense Secretary Jim Mattis spoke with Japanese Defense Minister Tomomi Inada about the most recent North Korean missile launches.
A Pentagon spokesman said Mattis reaffirmed the U.S. defense commitment to Japan. And "both agreed that these launches are an unacceptable and irresponsible act that undermines security and stability in the region."
Copyright © 2017, ABC Radio. All rights reserved.