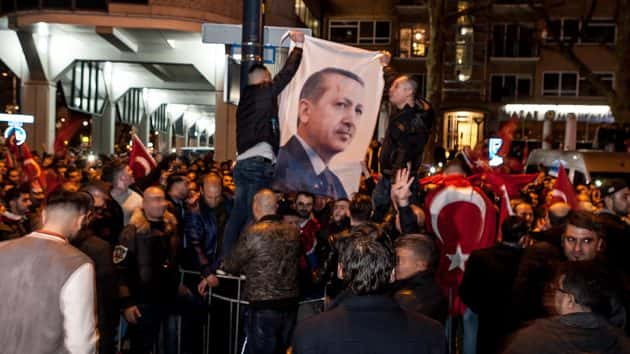 Paco Nunez/Anadolu Agency/Getty Images
Paco Nunez/Anadolu Agency/Getty Images(ROTTERDAM, Netherlands) — A state of emergency was declared in the Dutch city of Rotterdam as police were called in to contain a pro-Turkish demonstration amid worsening relations between the Netherlands and Turkey.
About 1,000 protesters gathered outside the Turkish consulate in the city after Turkey's minister for family affairs, Fatma Betul Sayan Kaya, was prevented from entering the building. The minister, who traveled to the Netherlands from Germany, said on Twitter: "We were stopped at the Consulate General of Rotterdam, 30 metres away, and are not allowed to enter."
"Netherlands is violating all international laws, conventions and human rights by not letting me enter Turkish Consulate in Rotterdam," she said in another tweet.
Rotterdam's mayor Ahmed Aboutaleb said the minister was being escorted back to the German border, BBC reports.
Turkey's foreign minister, Mevlut Cavusoglu, was barred from entering the Netherlands after he was set to attend a Rotterdam rally on Saturday in support of Turkish President Recep Tayyip Erdogan ahead of a referendum on expanding the president's powers. In retaliation, Erdogan described the Dutch government as "Nazi remnants and fascists," according to BBC.
Copyright © 2017, ABC Radio. All rights reserved.