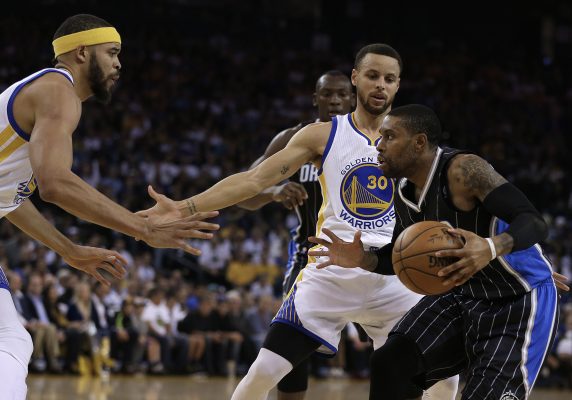 Orlando Magic's C.J. Watson, right, drives the ball against Golden State Warriors' Stephen Curry (30) and JaVale McGee, left, during the first half of an NBA basketball game Thursday, March 16, 2017, in Oakland, Calif. (AP Photo/Ben Margot)
Thompson scored 29 points (21 in the 1st quarter) as the Warriors soared past Orlando 122-92. 
By Cole Reece| March 17th
In the 1st quarter, Klay Thompson was absolutely unstoppable. He scored 21 points and set the tone for a dominant win over the visiting Magic. Golden State led from start to finish with seemingly every star player contributing. Klay led all scorers with 29 points, and 5 made three-pointers on 9 attempts. Steph had a solid night with 25 points and 9 assists. Zaza earned a triple double with 10 points and 10 rebounds. Andre Iguodala rounded out the scoring with 14 points off the bench. Golden State easily took home their 54th victory of the year (122-92). Not to mention the win earned a 3rd consecutive Pacific Division title for the Warriors. The Magic were overmatched and overwhelmed the entire night. Jeff Green and Elfrid Payton led all Orlando scorers with just 13 points a piece. Up next the Dubs look to continue their successful homestand against the "Greek Freak" and the Milwaukee Bucks Saturday at 7:30 PM. Make sure and tune into KSRO for the next exciting installment of Warrior's basketball.