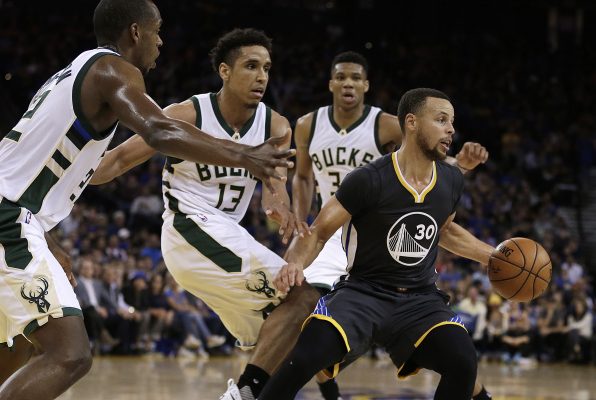 Golden State Warriors' Stephen Curry, right, turns away from Milwaukee Bucks' Khris Middleton, left, Malcolm Brogdon (13) and Giannis Antetokounmpo during the second half of an NBA basketball game Saturday, March 18, 2017, in Oakland, Calif. (AP Photo/Ben Margot)
The Warriors overcame their slow start and wound up shooting 60% on the night.
By Cole Reece| March 19th
Everything seemed to return to normal Saturday night in the friendly confines of Oracle Arena. The Warriors found their groove and pushed their Western conference lead to 2 games. Golden State got off to a slow start as they trailed Milwaukee by 14 points (25-11). What followed was a declaration that the Dubs are back in business. Led by none other than Steph Curry the Warriors set out on a sharpshooting barrage. Steph scored 10 points in the 1st quarter to pull the Dubs to within 2 points of the Bucks (29-27). Shortly thereafter in the 2nd quarter Golden State pulled ahead for good. Klay sunk a three-pointer that finished off a 25-5 run(36-30). Milwaukee watched as the Warriors carved them up. Curry was spectacular as he finished with 28 points and went 6/8 on three's. He only played in three quarters! Klay Thompson added 21 points, while Iggy contributed 15 off the bench. The Dubs finished shooting over 60% on the night. On top of that they shut down the Bucks holding them to just 40% from the field. Giannis Antetokounmpo was a non factor as he was contained to 9 points by the Warrior's defense. Golden State surged to an impressive 117-92 victory against the Milwaukee Bucks. Up next the Warriors travel to OKC to take on the Thunder Monday at 5:00 PM.