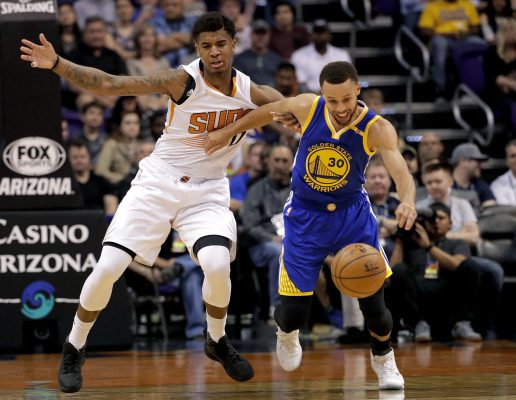 Golden State Warriors guard Stephen Curry (30) steals the ball from Phoenix Suns forward Marquese Chriss (0) during the first half of an NBA basketball game, Wednesday, April 5, 2017, in Phoenix. (AP Photo/Matt York)
With the Spurs loss and the Warriors victory Golden State is assured home court advantage throughout the Playoffs.
By Cole Reece|April 5th
Golden State was up big after the 1st quarter of play in the desert. Steph Curry drained 23 points while the Suns managed only 18 for the entire quarter. Things turned around for Phoenix in the 2nd quarter where they outscored the Dubs (34-17). The result was a slim Warrior's lead headed into halftime (58-52). During the break, San Antonio lost to the Lakers meaning a Golden State win would secure the Number 1 seed. Steph Curry did everything in his power to assure that happened tonight. The Chef was sublime as he finished with 42 points. He was 8 of 13 from deep and 15 of 26 overall. He rounded out his stat sheet with 11 assists and 5 rebounds. The Suns on the flip side did not resemble a team that had lost their previous 12 games. They kept pace with the Warriors from the 2nd quarter on. Devin Booker the man who scored 70 points added 21 tonight. While Dudley came off the bench for Phoenix to contributed 19 points off the bench. Even without Draymond Green and Iguodala, the Dubs had just enough firepower to get the job done. Golden State won by the final score of 120-111. It was their 13th conseutive win and their third staight 65 plus win season. No other team has accomplished this remarkable feat. Up Next the Dubs take on the Pelicans on Saturday. The goal then is to get KD back up to speed and deciate the Pelicans.