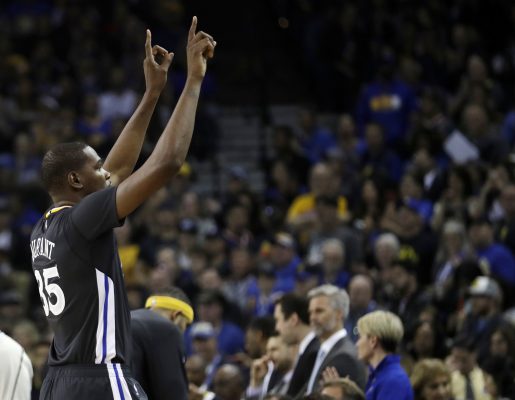 Golden State Warriors' Kevin Durant gestures as he enters the court for the team's NBA basketball game against the New Orleans Pelicans on Saturday, April 8, 2017, in Oakland, Calif. (AP Photo/Marcio Jose Sanchez)
Durant earned a double-double in his long awaited return.
By Cole Reece| April 9th
Golden State rode a balanced scoring attack to a 123-101 victory over the visiting Pelicans. The Warriors were without Stephen Curry, but a prize player made his long-awaited return. Following a 5 week stint on the disabled list, Kevin Durant made his triumphant entrance at Oracle arena. Durant earned a double-double with 16 points and 10 rebounds. Naturally, his first bucket came on a baseline reverse hand dunk. Golden State got scoring throughout their lineup as 7 players scored in double figures. Klay Thompson led the Dubs with 20 points, followed by Ian Clark who scored 17 off the bench. New Orleans was without both Demarcus Cousins and Anthony Davis. The Pelicans pulled to within 2 points of the Dubs with 2 minutes left in the 2nd quarter. Golden State went on a 23-8 run and checked out to earn their 14th straight win. It was a picture perfect night for the Warriors as only 2 games remain in the regular season. Up next the Dubs take on the Utah Jazz Monday at 7:30 PM.