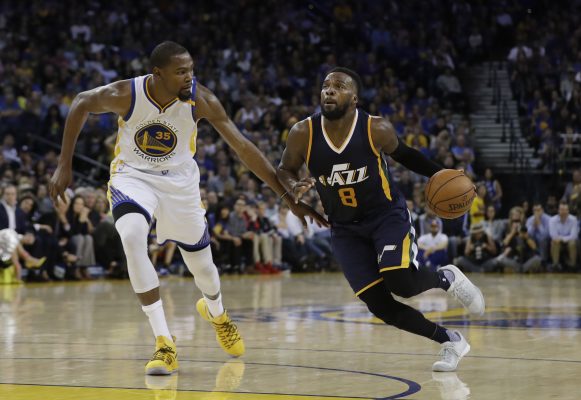 Utah Jazz guard Shelvin Mack (8) is defended by Golden State Warriors forward Kevin Durant (35) during the second half of an NBA basketball game Monday, April 10, 2017, in Oakland, Calif. (AP Photo/Marcio Jose Sanchez)
The Jazz rode a strong 4th quarter to a 105-99 win.
The final 3 games of the regular season will be all about Kevin Durant's reintegration. As silly as it sounds the Warriors don't care about their record. In his second outing since the injury, KD matched his output from the previous game against New Orleans. Durant registered 16 points 10 rebounds and 10 assists. This game was all about getting Curry and Durant reacquainted. It went exactly as planned Steph scorched the Jazz for 28 points while going 6 of 8 from distance. The tandem looked great, now to throw Klay Thompson in the mix. Utah is still in a fight for the 4th spot in the West and they played with tremendous amounts of energy. The game remained relatively close as Golden State was up by just 2 points (51-49) at halftime. It all started to shift in the 4th quarter when Steve Kerr decided to pull his starters. The Jazz rode Geroge Hill's 20 points and Rudy Gobert's inside presence past the Warriors bench (105-99). Utah desperately needed this win, and Kerr wanted to see what his deeper reserves were made of. The final regular season contest begins Wednesday night at Oracle against the Lakers. Make sure to tune into KSRO to listen as the Warriors take on Luke Walton and his team.