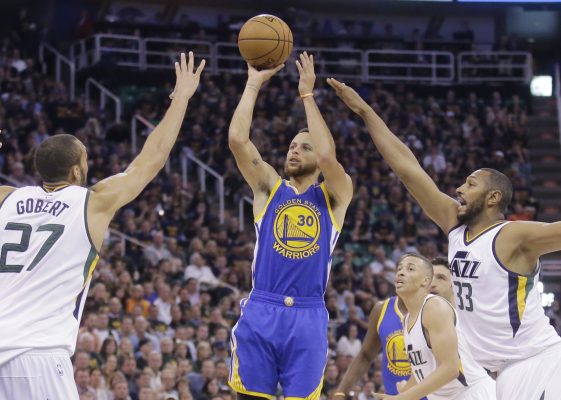 Golden State Warriors guard Stephen Curry (30) shoots as Utah Jazz's Rudy Gobert (27) and Boris Diaw (33) defend in the first half during Game 4 of the NBA basketball second-round playoff series, Monday, May 8, 2017, in Salt Lake City. (AP Photo/Rick Bowmer)
Golden State moves on to the Western Conference Finals behind phenomenal play from their all-stars.
By Cole Reece| May 8th
The four Warrior all-stars closed out the series in spectacular fashion. Golden State completed the 4 game sweep beating Utah 121-95. Steph Curry led the way with 30 points, and 4 made three-pointers. Klay Thompson added 21 points while KD dropped 18 points, 10 of which came in the 2nd quarter. Draymond completed the triple double with 17 points 10 rebounds, and 11 assists. Golden State replicated their 1st quarter success with 39 points. The Splash Brothers accounted for 20 points in the opening quarter. Utah was not ready to let their series end. Off the strength of Golden State's turnovers, the Jazz gained momentum. They were able to trim the Dubs led down to 8 points at halftime (60-52). In the 2nd half, Gordon Hayward caught fire along with Shelvin Mack. Hayward finished with 25 points in the final game of the season for the Jazz. As the 3rd quarter drew to a close the Warriors executed the two for one to perfection. Iguodala hit a three-pointer, and Curry followed up with a trey of his own. The Dubs led (93-79) headed into the final quarter. From there Golden State ran away with the contest 121-95 and swept Utah 4-0. The Jazz led for just 11 minutes and 55 seconds of the series. The Dubs left no doubt and easily dispatched of the Jazz. Stay tuned as the Warriors await their next opponent whom they will face in the Western Conference Finals.