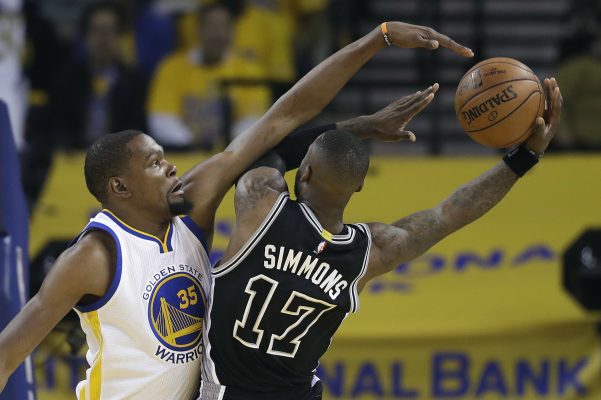 San Antonio Spurs' Jonathon Simmons (17) drives to the basket as Golden State Warriors' Kevin Durant (35) defends during the first half of Game 2 of the NBA basketball Western Conference finals, Tuesday, May 16, 2017, in Oakland, Calif. (AP Photo/Marcio Jose Sanchez)
Golden State's Postseason win streak stands at 10 games after a 136-100 drubbing of the Spurs.
By Cole Reece| May 17th
Golden State dominated the San Antonio Spurs from start to finish on Tuesday night in Oakland. The numbers were staggering across the board as the Dubs shut down the Spurs. The Warriors managed to shoot 56% from the field against San Antonio. Not to mention the 39 assists, and 48% shooting from beyond the arc. 6 Warrior's players scored in double digit figures. Steph Curry carried his tremendous play over from the first game of the series. Curry scored 29 points in just 3 quarters of play. On the other side of the court, Gregg Popovich's team could not muster a response without Kahwi Leonard. The Spurs star was out with an ankle injury that was re-aggravated in Game 1 of the series. San Antonio looked dejected and frustrated as the Dubs annihilated them. Jonathon Simmons was perhaps the lone bright spot for the Spurs. Starting in place of the injured Leonard, Simmons scored a team-high 22 points. He was ferocious and attacked the Warriors with a purpose. When the clock struck zero, the Golden State Warriors defeated the Spurs 136-100. The Dubs pushed their series lead to 2-0 and increased their postseason win streak to 10 games. Up next the series shifts to San Antonio. Make sure to tune into KSRO Saturday at 6:00 PM.