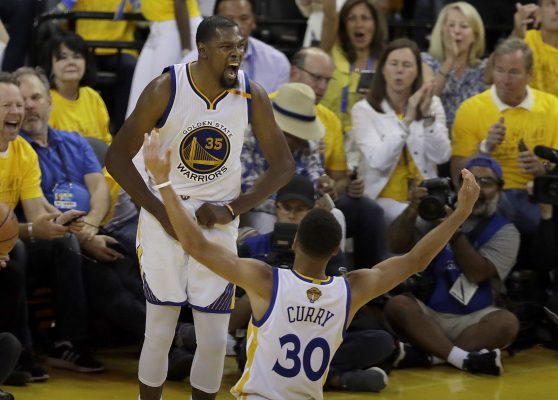 Golden State Warriors forward Kevin Durant (35) celebrates with guard Stephen Curry (30) during the second half of Game 2 of basketball's NBA Finals against the Cleveland Cavaliers in Oakland, Calif., Sunday, June 4, 2017. (AP Photo/Marcio Jose Sanchez)
Golden State outshined the Cavs with All-Star efforts from Steph, KD, and Klay.
By Cole Reece| June 5th
Golden State put the hammer down in their 132-113 victory over the Cleveland Cavaliers. The Warriors utilized their depth to pull away from the Cavs in the 2nd half. Both Steph Curry and Lebron James registered triple doubles. It is only the 2nd time in Finals history that 2 players have accomplished that feat in the same game. Behind Steph Curry was Kevin Durant who followed up his game 1 performance with 33 points. KD also had 3 steals, and 5 blocks to go along with 13 rebounds. Klay Thompson awoke from his shooting slump to strike for 22 points. Draymond rounded out the scoring with 12 points. Cleveland's defense was unable to contain the deeper Warriors team. In the 1st half, the Cavs stayed close to the Dubs thanks to careless Golden State turnovers. In the 1st quarter, Curry had the hot hand with 15 points. Steph went 10-10 from the free throw line. Lebron was in attack mode as he drove to the rim at every opportunity. The Warriors led (40-34) at the conclusion of the 1st quarter. It was more of the same in the 2nd as the Cavs capitalized on multiple turnovers. At halftime, Golden State held a three-point lead (67-64) over Cleveland. In the 2nd half, the Warriors led by KD, Steph, and Klay ran away with Game 2. The defense ramped up for the Dubs, and the three-point shooting was spectacular. Curry began the 3rd quarter charge, and Durant and Klay joined the party. The Cavaliers were badly out-shot from beyond the arc where the Dubs had an (18-8) advantage. Golden State slowly dismantled the Cavs and took Game 2 132-113. Lost in all of the action was Steve Kerr's return to the bench following his absence due to recurring back issues. We sure did miss you, Coach! Up next the series shifts to Ohio where the Warriors look to continue their success.