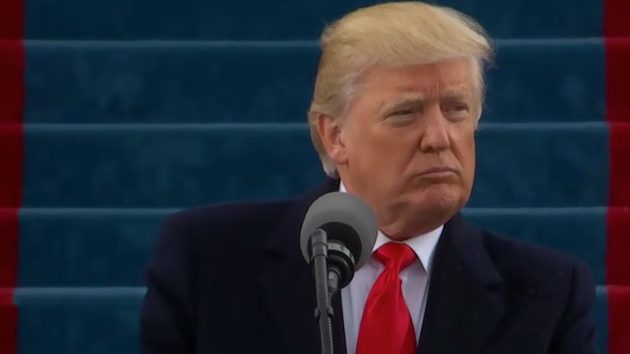 ABC News
ABC News(NEW YORK) — President Trump will experience the most crucial diplomatic test of his presidency when he sits down Friday with Russian President Vladimir Putin Friday at the G-20 Summit.
It couldn't come at a more politically or diplomatically sensitive moment for both leaders. As Trump faces pressure over the multiple investigations into his campaign's ties with Russia and Russian interference in the 2016 presidential election, there are also questions on whether the president will stand up to Putin's aggression in Ukraine, as well as his support for the Assad regime in Syria.
Speculation has been building for months about a potential face-to-face between the leaders, and already, Moscow has built on the anticipation by releasing an extensive, if predictable, "agenda" for the meeting.
In contrast, the White House has sought to temper expectations, with a senior administration official telling ABC News that Trump is not likely to put together an agenda for the meeting because it's expected to be brief. Any agenda the U.S. does have will not be released to the public, an official said. Members of the president's national security team will join him during the talks.
The official also expressed doubt that Russia's meddling in the 2016 election would play a prominent part in the meeting, viewing it as a waste of time and "a loser of a topic." It's not clear, however, whether the topic will come up.
It's a striking admission, considering the high-stakes nature of the meeting and Putin's reputation to meticulously plan and prepare for potential scenarios that would show him having the upper-hand optically.
The president has been receiving briefings on issues that are paramount to the U.S.-Russia relationship and he has received papers prepared by his national security team, an administration official said. Leading up to the trip, Trump has spoken every day with National Security Adviser H.R. McMaster, along with Secretary of State Rex Tillerson and Secretary of Defense James Mattis.
Here are the topics and stakes that will weigh heavily over the meeting:
THE RUSSIA INVESTIGATION
The grey cloud hanging over the two leaders' when they shake hands in Hamburg will no doubt be the ongoing investigations into Russian interference in the election, as well as potential collusion with Trump campaign officials.
Trump has repeatedly railed against the investigations as a "hoax" orchestrated by the Democratic party, but his statements have done little to reduce the political pressure.
The administration's reluctance to say whether Trump will confront Russia on its suspected election meddling is now contrasted with Trump's own statements in recent weeks criticizing the Obama administration for not doing enough to punish Russia for its activities. In contrast, former President Obama has said he used his G-20 meeting with Putin in September 2016 to confront him on the hacking.
For Trump to let the meeting pass without raising the issue at all could earn him bipartisan scorn.
"If he doesn't, he comes back here, I think, to a firestorm," said Steven Pifer, a senior fellow at the Brookings Institution and former U.S. ambassador to Ukraine. "He'll be criticized by the media, he'll be criticized by people like me, he'll be criticized by Congress."
SYRIA/UKRAINE
A senior administration official said issues pertaining to Ukraine and Syria are likely to dominate the meeting's agenda.
The White House has said sanctions will not be lifted on Russia until it withdraws from Crimea. And it was just two weeks ago, as Ukrainian President Petro Poroshenko arrived at the White House, that the Treasury Department's Office of Foreign Assets Control released a list of 38 individuals it will target with sanctions related to Russia's occupation of Crimea.
Meanwhile, Russia's continued support for the Assad regime — including April's sarin gas attack in the town of Khan Sheikhoun — led President Trump to acknowledge that relations with Russia were "at an all-time low," following his orders to strike a Syrian airbase.
The dispute reignited just last week with an ominous statement from press secretary Sean Spicer, indicating that U.S. intelligence detected possible preparations for another chemical attack and warning of consequences against Assad and Syria's military in the event one was carried out. Russia called the warning "unacceptable," and said any attack could potentially compromise the de-confliction channel between U.S. and Russian forces in Syria.
OUTSMARTING PUTIN/SANCTIONS? In the event there's consensus or compromise on an issue, Trump will be labeled by some as kowtowing to Putin's demands.
"My concern about the meeting is that Vladimir Putin will come into that meeting extremely well prepared. I think that's been the experience of President Clinton, President Bush, President Obama that this guy knows his briefs," the Brookings Institutions' Pifer said. "There's a certain risk that President Putin could describe something that sounds really good, and President Trump will say yes before he fully understands some hidden downsides. And if the downsides are discovered afterwards and the deal falls apart within a couple of days that actually puts U.S.-Russia relations in a bigger hole."
And if there's some sort of heated confrontation, it could further exacerbate tensions between the U.S. and Russia.
"There clearly are risks when you've got a foreign policy process as disorganized as it appears to be in this administration," said Jeffrey Rathke, deputy director of the Europe Program at Center for Strategic and International Studies. "There is a risk of making commitments in one -– in one field that could impinge on other interests that haven't yet been fully discussed in an inter-agency process."
Foreign policy experts say it sets up a likely "no-win" situation in terms of the outcome of the meeting.
"Trump will be unable to move on U.S.-Russian relations, even if he would like to, because Russia's policy remains toxic in U.S. domestic politics," Fyodor Lukyanov, chairman of the Council on Foreign and Defense Policy said. "His handshake with Putin, though, will no doubt cause another political tsunami in Washington, which will further undermine their prospects for interaction."
Copyright © 2017, ABC Radio. All rights reserved.