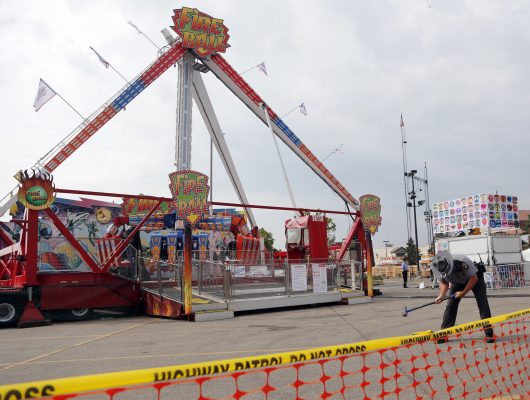 An Ohio State Highway Patrol trooper removes a ground spike from in front of the fire ball ride at the Ohio State Fair Thursday, July 27, 2017, in Columbus, Ohio. The fair opened Thursday but its amusement rides remained closed one day after Tyler Jarrell, 18, was killed and seven other people were injured when the thrill ride broke apart and flung people into the air. (AP Photo/Jay LaPrete)
We're less than a week away from the Sonoma County Fair, and officials there want to reasure the public that its' rides will be safe.
Officials at the Sonoma County are reacting to the tragedy at the Ohio State Fair, when one young man lost his life and several others were injured on the Fireball Ride. Butler Amusements is in charge of the rides for the fair, which starts next week. Butler has a Fireball Ride, but they won't be bringing it to Sonoma County.