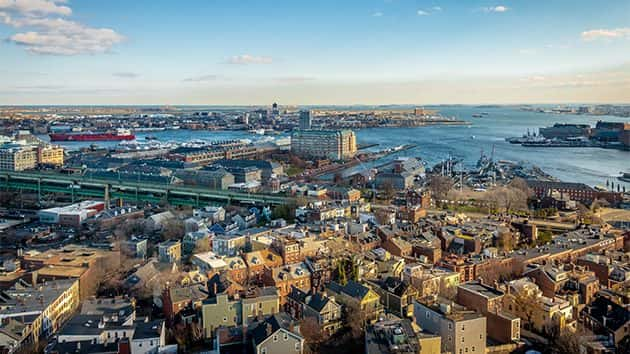 iStock/Thinkstock
iStock/Thinkstock(BOSTON) — Boston is adequately prepared for Saturday's "free speech" rally, city officials said, despite the elevated tension and rhetoric that followed the deadly violence in Charlottesville, Virginia, last weekend.
More than 500 police officers will be on hand for the Boston Free Speech Coalition's event so that "we don't have an incident … like last week in Virginia," Mayor Marty Walsh said Friday.
"We're going to respect their right to free speech," Walsh said, but "they don't have the right to create unsafe conditions."
"We don't want hate groups to come to our city or state," he added.
Boston Free Speech, the group behind the rally, has invited a number of groups to speak. There are four headliners listed on the Boston Free Speech Facebook page, including Kyle Chapman, who made waves online after photos of his hitting anti-Trump protesters were shared widely. Another scheduled headliner is Joe Biggs, who previously worked at the site InfoWars, which is run by conservative radio host Alex Jones. Republican congressional candidate Shiva Ayyadurai and Libertarian congressional candidate Samson Racioppi are also listed as headliners.
John Medlar, who says he is an organizer for Boston Free Speech, said the group has no affiliation with the white supremacists who marched in Charlottesville last weekend, Boston.com reported.
His group is largely made up of students in their mid-teens to mid-20s who live around the city, Medlar told the news website.
The group's permit limits the rally to noon to 2 p.m., according to the Boston Globe.
Boston Police Commissioner Billy Evans on Friday said "we're going to be really working the crowd real closely."
"It's that little percentage that wants to cause problems that we're going to watch," Evans said.
The city has been working with "free speech" group organizers and protesters in advance of the event, Evans said, and they have been encouraged not to bring any weapons. Even posters should have no sticks attached to them for fear that they could be used as weapons, he added.
Evans also criticized the publicity surrounding the event, saying that because of "the frenzy over the last six days," the Boston rally has been portrayed "like a showdown."
"I hope anyone who protests and is marching is doing it for the right reason," Evans said, though conceding, "unfortunately, I think there's going to be a few troublemakers here."
Copyright © 2017, ABC Radio. All rights reserved.