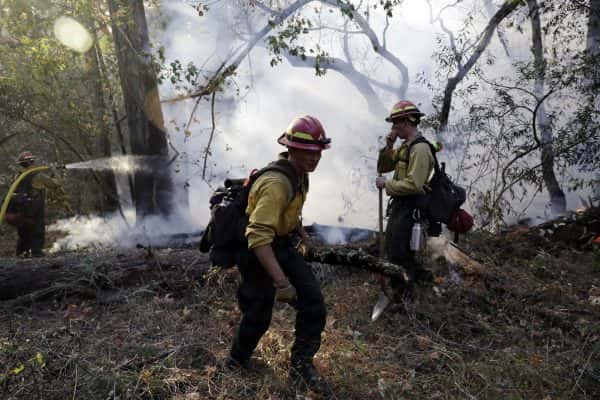 Fire crews battle a wildfire Saturday, Oct. 14, 2017, in Santa Rosa, Calif. (AP Photo/Marcio Jose Sanchez)

Current Situation:
Higher temperatures and windy conditions are expected across much of the region through Wednesday. Winds will become much weaker by the afternoon. Fire and utility personnel continue mop up and suppression repair activities. They will remain in the area for some time. Please use caution when driving in the effected areas.
Evacuation and Reentry Areas
Limited Reentry:
Mandatory evacuation orders remain in effect for certain areas that have been impacted by fire. However, the City of Santa Rosa and County of Sonoma have begun to allow residents to return and visit specific damaged and destroyed areas, this is known as controlled limited reentry. Residents must provide a form of ID for reentry. Areas will be opened to residents once officials deem the areas safe for reentry. For a realtime map of current evacuations and reentry areas visit https://tinyurl.com/centrallnuevacs
For specific limited reentry information for areas within the City of Santa Rosa:
• Call the Santa Rosa Fire Information Line at: (707) 543-4511
• Visit the City's website at: www.srcity.org
• Watch a short video on the reentry process at: https://youtu.be/eR8hLppM4VM
For specific limited reentry information for areas within the County of Sonoma:
• Call the Sonoma County Emergency Information Line at: (707) 565-3856
@CAL_FIRE
@SantaRosaFire
All State Parks in the fire area remain closed. For current State Park information please visit www.parks.ca.gov
Evacuation Centers:
Please check http://sonomacounty.ca.gov/Public-Safety/ for list of current evacuation centers.
Road Closures:
For current road closures see www.roadconditions.sonoma-county.org
Local Emergency Operations:
County of Sonoma Emergency Operations
• Further detailed information for Sonoma County can be found at: http://sonomacounty.ca.gov/Public-Safety/EOC/
• Emergency Information Hotline at (707) 565-3856
• Visit them on Twitter @CountyofSonoma and Facebook @SonomaCountyCAL
• For a real-time map of damage & destroyed structures please visit: http://arcg.is/2ilaaOv
City of Santa Rosa Emergency Operations
• Further detailed information for the City of Santa Rosa can be found at: https://srcity.org/610/Emergency-Information
• Santa Rosa Fire Info. Line at 707-543-4511