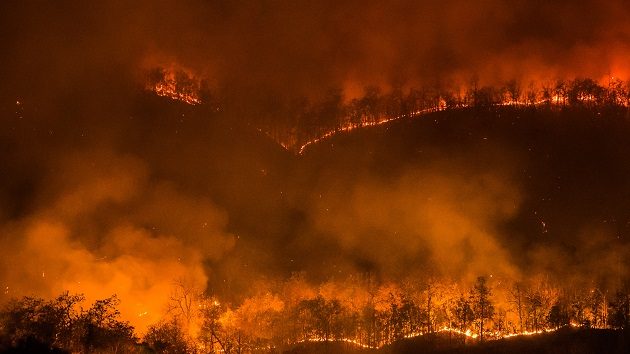 iStock/Thinkstock
iStock/Thinkstock(VENTURA COUNTY, Calif) — The fire department chief in California's Ventura County told ABC News Thursday that he expected the number of structures destroyed by fires — at least 150 — to increase as assessment teams continued to survey the damage into the night.
"Homes, barns, apartment buildings," Ventura County Fire Department Chief Mark Lorenzen told "World News Tonight" anchor David Muir. "We expect that number's going to go up significantly."
The Thomas fire, raging across Ventura County, has scorched more than 150 square miles so far. The largest of the blazes ravaging the state, the Thomas fire started Monday night as a 50-acre brush fire in foothills east of Santa Paula and grew to 10,000 acres in just four hours, authorities said.
Lorenzen said the winds were his greatest concern Thursday night.
"Mother Nature really decides when we're gonna be able to actually put the fire out," he said. "Right now what we're doing is just trying to stay ahead of it, make sure we evacuate and protect structures."
Lorenzen said firefighters were experiencing gusts of 40 to 60 mph coming out of the East that were pushing the fires hard in a westerly direction.
He said that in the absence of rain, he could see this active, multiple-fire situation "easily going to Christmas."
Parts of Southern California are now facing some of the most critical fire conditions on record. Fierce flames are threatening ranches. Videos have captured frightened horses being led to safety.
ABC News witnessed Rachel Lipscomb, 11, of Ventura, walked through the wreckage of her family's home with her father, Jeff, and older brother, Gabriel. Her precious books were all gone.
But there were scenes of hope as well.
As Muir spoke with Lorenzen and visited with firefighters, there was an unexpected delivery from two girls — Hannah and Haley Thompson — whose home had survived the fires.
The two sisters said they'd wanted to do something for the firefighters risking their lives to evacuate residents and extinguish the raging blaze. So, they came with sandwiches.
"We brought ham and cheese, turkey and cheese," the girls said.
They said it was their way to say thanks.
Copyright © 2017, ABC Radio. All rights reserved.