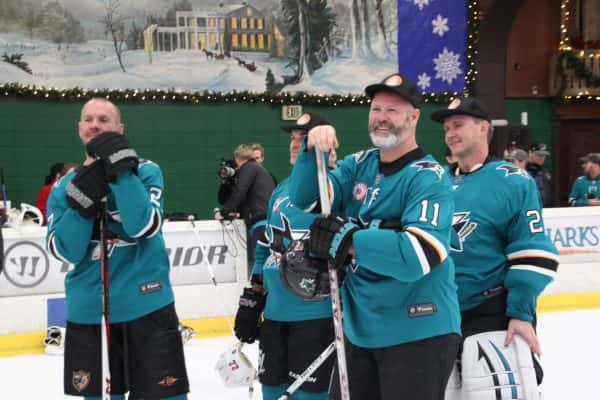 (Santa Rosa, CA) Hockey took center stage on a brisk winter night in Santa Rosa as former San Jose Sharks stars, along with a number of members of the Sharks organization, came to the Redwood Empire Ice Arena (or Snoopy's Home Ice for short) for a charity game to take on members of North Bay Police & Fire.  The newly formed Sharks Alumni Foundation contacted organizers of the annual North Bay Guns & Hoses hockey game soon after the North Bay Fires to offer to play in the game, as well as to offer financial and fundraising support to the area.  Sharks players arrived on a bus from San Jose mid-afternoon, first touring the burned areas of Coffey Park, before returning to the rink to participate in public skate and sign autographs for youth hockey players. "It's a jaw-dropping, eye-opening experience and it's something that really makes you reflect on how lucky we all are" said Sharks radio play by play man Dan Rusanowksy about seeing the damage of the Tubb's Fire.
A pre-game ceremony, including color guard and a performance of the national anthem, honored the heads of local law enforcement inducing Santa Rosa Police, Fire,  and Sonoma County Sheriff.  Also before the game, Sharks General Manager Doug Wilson announced a 'trade' had been made – Santa Rosa Firefighters Robert Nappi and Paul Lowenthal, two members of the Santa Rosa Fire Department that lost their homes, would be playing alongside the Sharks in the game.  The formers Sharks dazzled fans and their opponents with almost Harlem Globetrotters-style hockey skills.  The Guns & Hoses team still put up a good fight against their NHL counterparts, getting 3 pucks past longtime Sharks goalie Evgeni Nabokov.  NBC Sports Network California Sharks Broadcaster Brodie Brazil said of the impact of the event "It's so important to be here, soak this in, and understand the magnitude of everybody up here that still needs some love and some assistance".
A capacity crowd of over 700 fans cheered on their favorite Sharks stars of the past as well as the heroes that helped save their community a short 4 weeks prior.  When the final buzzer sounded, the Sharks alumni picked up the victory 7-3.  The event concluded with the ceremonial hockey handshakes at center ice and a check presentation to the four charitable beneficiaries of the event.  Each organization received a $10,000 donation, with the total impact of the event totaling $40,000.