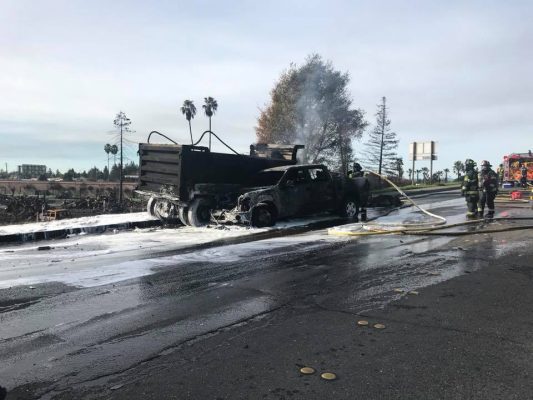 Courtesy of the Santa Rosa Police Department
Update 2:58pm: From the SRPD, Mendocino Avenue and Fountaingrove Parkway are open. Mendocino over crossing still closed between Mendocino and Cleveland Avenue.
*Major Crash With Fire And Injuries* At approximately 9:30am, 4 fire engines, 2 ladder trucks and 3 chief officers responded with Santa Rosa Police Department and American Medical Response – AMR – Sonoma County to a crash involving 10 vehicles, six of which were on fire. An MCI (an acronym used for multiple patients) was declared due to the number of patients. 5 ambulances responded to the scene and transported 6 patients to area hospitals.
Road closures include: Mendocino Ave. northbound at Bicentennial Way. Southbound Old Redwood Highway is closed at the Mendocino off-ramp. Mendocino Ave. over-crossing at Cleveland Ave. Westbound Fountaingrove Pkwy.closed at Round Barn.