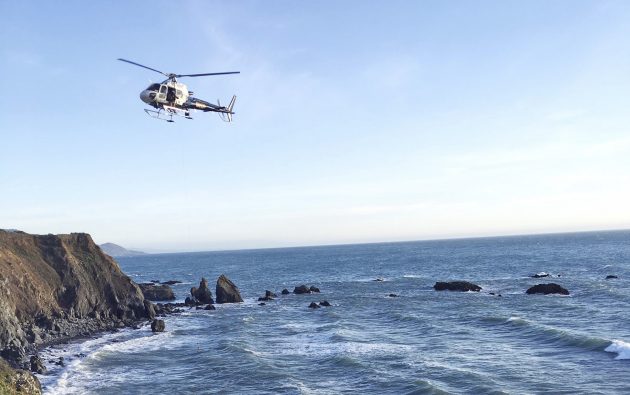 This photo provided by the California Highway Patrol shows a helicopter hovering over steep coastal cliffs Tuesday, March 27, 2018, near Mendocino, Calif., where a vehicle, visible at lower right, plunged about 100 feet off a cliff along Highway 1, killing all five passengers. The California Highway Patrol identified the victims Tuesday as two women from West Linn, Ore., and three children. (California Highway Patrol via AP)
Police in Northern California say it appears that a crash that killed at least five family members last week was intentional. Neighbor Dana DeKalb tells NBC News there was trouble at the Hart home before the crash.
That's a claim that some friends of the family have disputed. Search crews have recovered the bodies of parents Jennifer and Sarah Hart and three of their adopted children after their SUV drove off a cliff in Mendocino County on March 26th. Three other children are still missing and California Highway Patrol says they could have been swept away by the ocean. Police still don't know which parent was driving at the time of the incident.