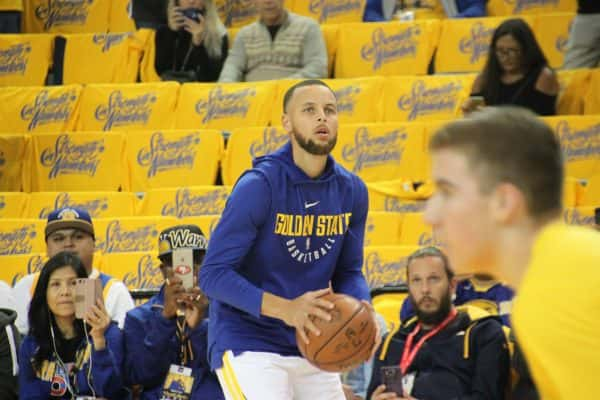 The Warriors returned home to Oracle Arena for a pivotal Game 3 of their Western Conference Finals series against the Houston Rockets.  The Warriors pushed the pace in Game 1 to take an early lead in the series while the Rockets returned the favor in Game 2 to bring the series back to Oakland tied up a 1.  Oracle Arena has offered a historically strong home court advantage for the Warriors, especially in the playoffs in recent years.  Rockets Head Coach Mike D'Antoni downplayed the role home court advantage plays saying before the game "Yeah, [it's tough] because the Warriors play here. Yeah, it's going to be hard. It would be hard on any court."
Game 3 got off to a bit of an uneven start, with both teams looking to push the pace and gain an advantage, but the Warriors still managed to take a 9-point lead.  The back and forth pace continued into the 2nd, the Warriors cleaned up their possession game, but still struggled on their deep shooting, but still managed to take an 11 point lead into half time.  The Warriors came out on all cylinders after half, the shots began to fall and the Warriors imposed their game on the Rockets.  Stephen Curry sidestepped a defender and hit one of his trademark 3 pointer in the 3rd to put the Warriors up by 24, Kevin Durant followed up with a 3 of his own, to a deafening roar of the Oracle crowd.  A red hot Steph Curry went 9-9 in the 3rd and 2-2 from the free throw line, to put the Warriors up by 19 heading into the final quarter.
The Curry show continued into the 4th quarter as the superstar showed no signs of his injury which kept him out the early rounds of the playoffs, draining shot after shot, as the Warriors lead built to 29 with 5 minutes to play.  The Warriors didn't let up as the Warriors continued to a resounding Game 3 victory, 126-85.
The Warriors and Rockets return to the court for Game 4 on Tuesday night, tip off at 5p with KSRO pre-game coverage beginning at 4:30.  Also listen to The Drive with Steve Jaxon for a live broadcast from the Warriors practice facility in downtown Oakland on Monday, including a one-on-one sit-down with Head Coach Steve Kerr.