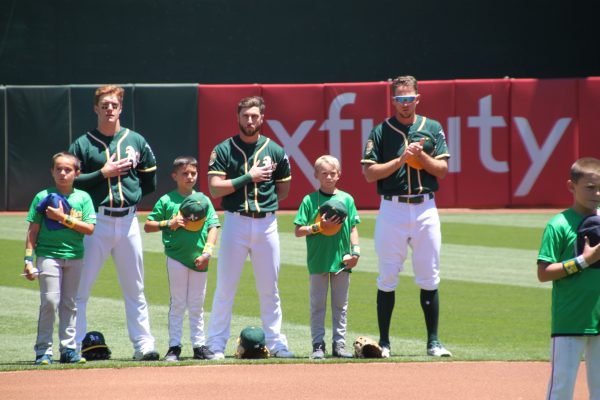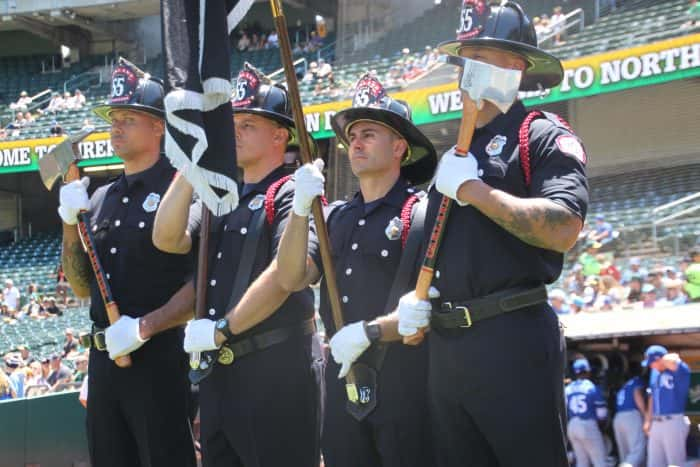 Over 4,000 residents of Sonoma, Napa, and Solano counties were treated to a beautiful afternoon of free baseball  and a dramatic late inning victory by the Oakland Athletics courtesy of an 8th inning home run from Matt Chapman.  Sunday afternoon the A's concurrently held both a "North Bay Day" celebration as well as a "Firefighter Appreciation Day" event to honor the first responders who battled the October wildfires in Northern California.  The pre-game festivities included members of the Santa Rosa Fire Department being acknowledged on the field as well as members of the Mark West Little League, one of the youth sports leagues most impacted by the fires, taking the diamond with their professional counterparts for the national anthem, complete with a color guard provided by Oakland Fire Department, and a moment of silence for the victims of the Northern California wildfires.
The pre-game festivities were rounded out by Santa Rosa resident Reece Wisler, who's Fountaingrove family home was lost to the Tubb's Fire. In the day's following the fire's, Wisler e-mailed his story to A's President Dave Kaval, who quickly responded and invited him to see a game and throw out the first pitch.   "I found out in April they would be doing [North Bay Day], so I figured what better day than today?" said Wisler as he awaited his chance to step on the mound.  "Our house burned down in Santa Rosa," Wisler recalled of the October fires "we only had about 5 minutes to get out, so we weren't able to get much of our stuff."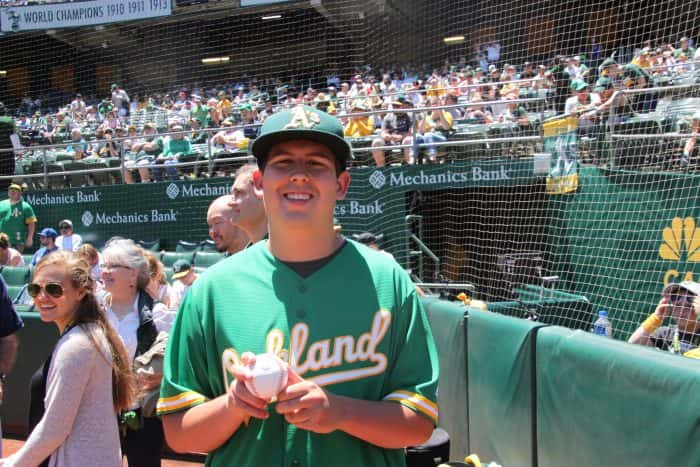 "The A's organization has been very active in supporting the North Bay community following last year's fires.  "It's our way to celebrate the North Bay and it's residents, our neighbors, the community, and all our fans." said A's VP of Community Catherine Aker, "We wanted to continue to the giving.  It's really important to us that, after the emergency happens, we still continue to give."  After the event was announced early the season, fans from areas impacted by the Northern California Wildfires we're able to request a pair of free tickets to the game.   Over 4,000 fans from around the North Bay took up the offer for a free day of baseball.
Wesley David, one of the Santa Rosa Firefighters dispatched on the first night of the fires took in the moment before the game, "We're very appreciative for getting to do this, especially me being an A's fan my whole life."  On the fires, David reflected "In 19  years it was the craziest thing I'd ever seen. It was an unbelievable occurrence, one that we'll hopefully never see again."  On the diamond, the A's sent fans home happy with a tight 3-2 victory of the Kansas City Royals on strong performances from starting pitcher Sean Manaea and third baseman Matt Chapman.  Aker summed up the day saying "We wanted to celebrate everything that's wonderful in the North Bay and give hopefully give a little bit of joy to the individuals effected by the fires."