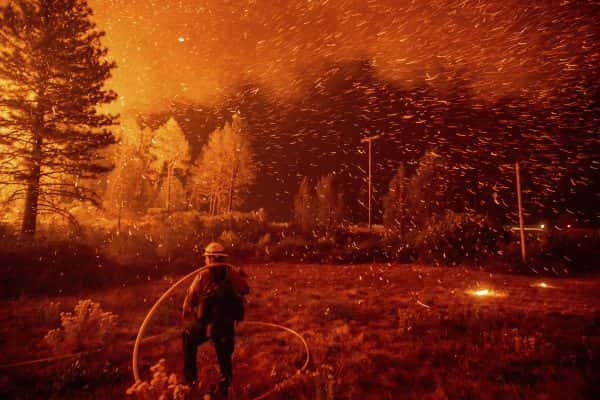 Embers fly above a firefighter as he works to control a backfire as the Delta Fire burns in the Shasta-Trinity National Forest, Calif., on Thursday, Sept. 6, 2018. The blaze had tripled in size overnight. (AP Photo/Noah Berger)
The Delta Fire continues to burn unchecked north of Redding. The fire has burned over 53-thousand acres north of Redding and is only fifteen-percent contained. The area could face a tough couple days of weather as parts of Northern California are under a Red Flag warning until Thursday. That means high winds, which could spread flames quickly. Low humidity could also make it easier for fires to ignite.
Evacuation orders are lifted and roads are open after firefighters gain the upper hand on the Irving Fire in Marin County. The blaze began late Monday night in Samuel P. Taylor State Park and burned about 152 acres and was 65 percent contained by last night. About 50 residents were without power and weren't expected to get it back until late this afternoon or early tonight. No injuries were reported, and the cause of the fire remains under investigation.
And the Snell Fire southeast of Middletown has reached nearly 2500 acres with containment remaining at 65 percent. All evacuation and road closures have been lifted, but they are asking residents to drive safely as fire crews and emergency personnel are still working in the area.