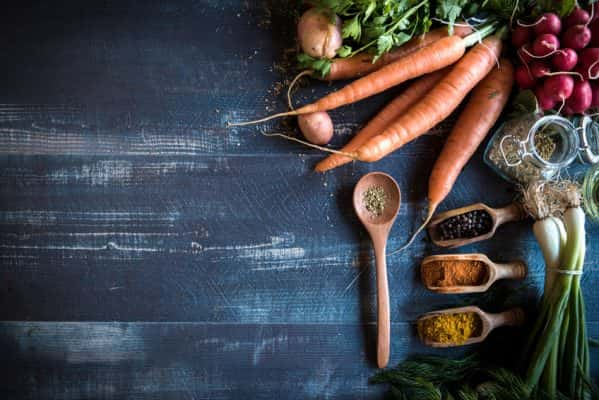 Cooking concept with vegetables and copy space in the middle on wooden background
Haydon Street Inn Recipe – Candied walnuts*
Ingredients:
1 lb. walnuts, shelled
1 tbsp. ground cinnamon
2 qts. simple syrup (equal parts of sugar and water)
1 cup turbinado or coarse grind sugar
1 tsp. ground cayenne pepper (optional)
2 tbls. salt
DIRECTIONS:
Mix cinnamon, cayenne, simple syrup and walnuts in a large sauce pan. Bring to boil and boil for 15 minutes, stirring occasionally. Drain well and spread on oiled baking sheet. Generously sprinkle with turbinado sugar. Bake at 225 degrees F for 1.5 hours. Stir. Return to oven for 1 hour or until crisp. Let cool in oven. These will keep well in zipper plastic bags.
*can substitute any nut
Haydon Street Inn Cream Scones 

Servings: 8
Ingredients:
2 ½ cups all purpose flour
3 tbsp. granulated sugar
2 ½ tsp. baking powder
½ tsp. salt
½ cup cold, unsalted butter, cut into cubes
1/3 cup dried cranberries or dried apricots, diced
grated rind from 2 lemons (or oranges)
1 egg
1 cup half and half
½ tsp. vanilla extract
Egg Wash:
1 tbsp. water
1 egg
2 tbsp. coarse white sugar or turbinado sugar
Instructions:
1. Preheat oven to 375 degrees F. Line a baking sheet with parchment paper.
2. In a large bowl, stir together the flour, sugar, baking powder and salt.
3. Slice the cold butter into 8 pieces and cut into flour mixture until pea-sized. Stir in the dried fruit and lemon zest.
4. In a small bowl, beat egg slightly with a fork. Stir in half and half and vanilla.
5. Pour cream mixture all at once into the flour mixture, stirring with a form to form a soft dough. DO NOT OVER MIX.
6. Turn dough out onto a lightly floured pastry cloth or board and knead a few times until smooth. Flecks of butter should still be visible.
7. Roll or pat dough into a rough about ¾" thick. Cut with biscuit cutter or into wedges with a sharp knife or pizza cutter.
8. Separate and place onto the prepared baking sheet.
9. Prepare an egg wash by beating 1 egg and 1 tbsp. water in a small bowl. Brush mixture over top of scones and sprinkle with coarse or turbinado sugar.
10. Bake for 15-17 minutes until the scones are puffed and golden brown and a cake tester inserted in the center comes out clean.