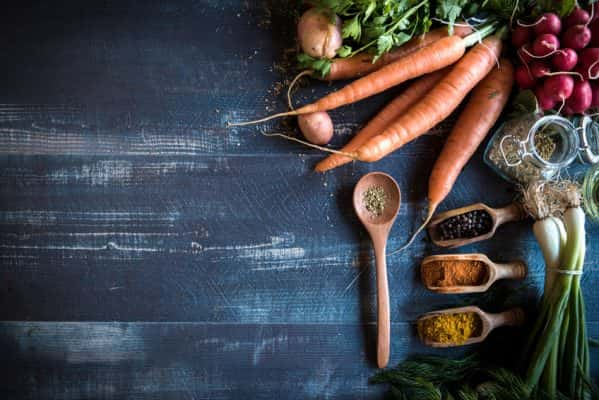 Cooking concept with vegetables and copy space in the middle on wooden background
Eggnog Muffins
Makes 12 muffins
Ingredients
1 cup Granulated Sugar
1/2 cup Butter
2 Large Eggs
2 cups All Purpose Flour
1 tablespoon Baking Powder
1 teaspoon Nutmeg
1 teaspoon Cinnamon
1 teaspoon Salt
1 teaspoon Vanilla Extract
1 cup Eggnog
Directions
1. Pre-heat oven to 350 degrees Fahrenheit and spray a standard muffin pan.
2. Cream butter and sugar in a stand mixer.
3. Add eggs one at a time until combined.
4. Mix all dry ingredients in a medium bowl. Alternate flour mixture and eggnog into the mixture, making sure to end with the flour mixture. Make sure not to over mix!
3. Divide evenly amongst the 12 muffin cups, and bake at 350 degrees Fahrenheit for 20-25 minutes, or until they are browned.
4. Invert onto wire rack to cool.
5. Enjoy as is or mix one cup of powdered sugar and 1-2 Tablespoons of eggnog and drizzle over muffins (highly recommended).