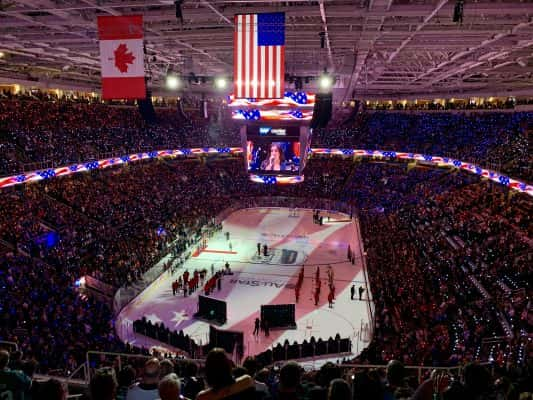 SAN JOSE, CA — After a half season of build up, the pomp and spectacle of the NHL All Star Game arrived at San Jose's SAP Center for the first time since 1997. Now it's in its fourth year of the 3-on-3 tournament style format, the game offered a chance for fans to see the biggest names in the game up close. The San Jose Sharks sent three representatives to the game – Captain Joe Pavelski and defensemen Brent Burns and Erik Karlsson.
The production wasn't without its local flare – the Stanford Marching Band took the ice first to provide musical backing track for the player introductions. The SAP Center crowd proved to be a very energetic group, not only offering big cheers to the hometown Sharks, but also a hearty helping of jeers for the Sharks biggest rivals (ironically, many them playing as teammates for the evening). After the raucous introduction, Sharks fans unfortunately found less to cheer for as their Central Division opponents took it to them on the ice. Anaheim Ducks Goalie John Gibson allowed 7 goals on 9 shots with Knights Goalie Marc-Andre Fleury giving up 3 more in the second frame as the Pacific Division All-Stars fell 10-4.
It wasn't all disappointment for Sharks fans, who got to cheer for the Sharks players scoring 3 of the Pacific's 4 goals including 2 from Karlsson. Karlsson admired after the game that he's still dealing with the injury issues that kept him out of the last two games before the break, but that the importance of the event to the organization and the fans led him to play.
The game's final round, Matthew Barzal led off the scoring to put the Metropolitan Division up 1-0. Philadelphia Flyers star Claude Giroux picked up his own rebound on a breakaway to add to the lead and put the Metro up by 2 with Kris Letang following up with a goal to move ahead 3-0. The All-Star Game offered fans the first glimpse of Sidney Crosby during the All Star Weekend as the Penguins superstar missed Friday night's NHL All Star skills with an illness.
The Metropolitan Division continued in their onslaught in the 2nd half, going on to win the final game of the tournament 10-5.  As the winning team, the Metropolitan Division takes him a $1 million prize.  Sidney Crosby was named the game's MVP. Next year the All Star Game moves to the East, as St. Louis hosts the 2020 All-Star Game.