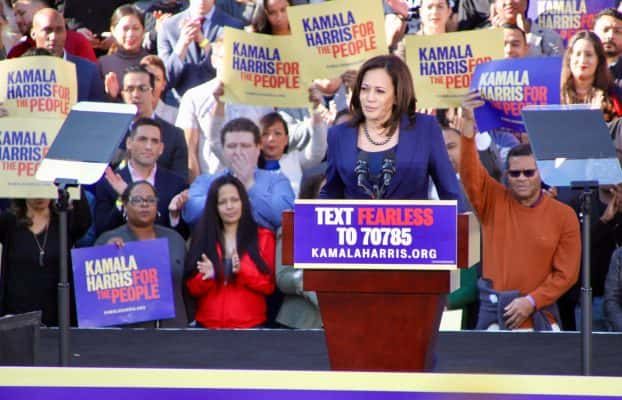 Kamala Harris appears at her campaign kick-off rally in Oakland, CA.
Mike DeWald
OAKLAND, CA — California Senator Kamala Harris came out swinging at her Oakland rally on Sunday afternoon, offering supporters their first look at her upstart campaign following her announcement on Martin Luther King Day that she planned to seek the presidency. Crowds filled the side streets of downtown Oakland's Frank Ogawa plaza, where Harris took the podium on the steps of Oakland City Hall. Oakland Police estimated the crowd size at over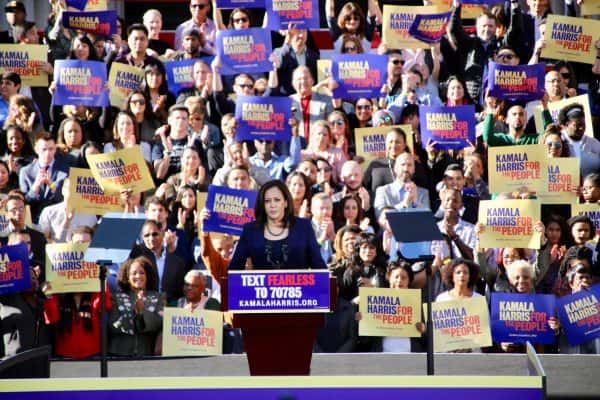 20,000 attendees – 10k inside the event and up to 12k looking on from the surrounding streets.
"To the world. And each other. Right here. And, right now. America, we are better than this." said Harris.
Harris' message was a mix of hope and unity crossed with a determination to rally against the current forces in the White House. Harris rarely mentioned the President by name, but pulled no punches when it came to the issues of immigration, health care, and the influences of foreign powers in American government.
There were may parallels to the Obama campaign roll-out of 2006 from the presentation to messaging. American flags donned the back drop of Oakland City Hall as supporters held up signs reading "Kamala Harris For The People". It's a combination of a populist campaign message with themes of hope and change.
Many of the days speakers, including Oakland Mayor Libby Schaaf, spoke of Harris' days as both a San Francisco DA as well as Attorney General saying the first term Senator was "not only tough on crime, but smart on crime." Schaaf served as the opening act for Harris, offering praise for the Senator's credentials and closed by officially endorsing her campaign.
Harris hit especially hard on the President's immigration policy, especially as it involved the his plan for what she called his "medieval vanity project," as well as the border policies of family separation and detention . Harris also staked out her claim to fight for Medicare for all. The speech was disrupted briefly by a protester yelling from the crowd about about the recent shooting of Police Corporal Ronil Singh, but was quickly drowned out by chants of "Kamala".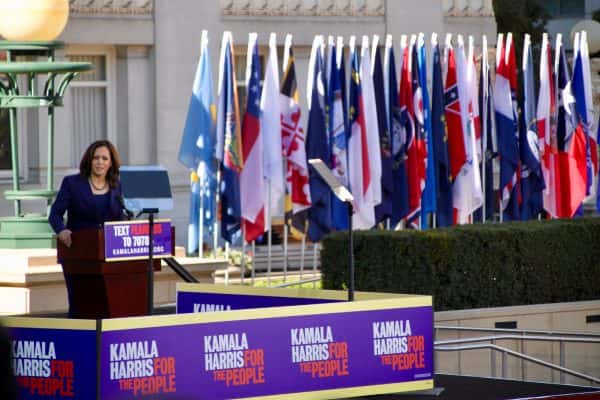 Harris talked of "speaking truth" to areas of injustice in society and what she sees as a growing influence of authoritarianism in power.
"I say we will rise together or we will fall together as one nation, indivisible." said Harris.
One of Harris' main challenges going forward will be breaking through a vast field of candidates in the Democratic primary outside of the state of California. The early California primary could very well benefit Harris, who could use the early momentum from the state to vault her further into the national picture.