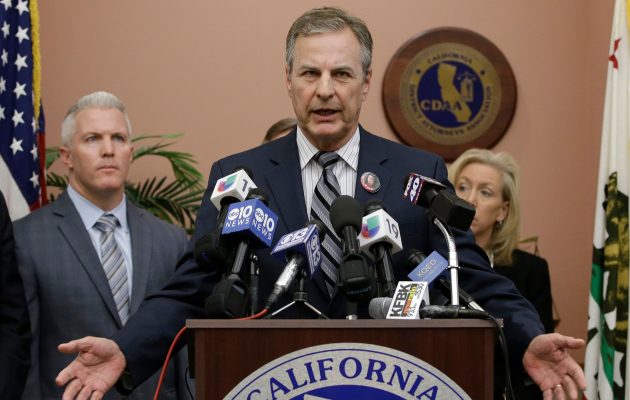 Victims' rights advocate Marc Klaas, joins with prosecutors and others to oppose Gov. Jerry Brown's initiative to reduce the state's prison population, Wednesday, March 2, 2016, in Sacramento, Calif. If approved by voters in November, the initiative would increase sentencing credits for adult inmates and allow earlier parole for non-violent felons. Klaas became an advocate after his 12-year-old daughter, Polly, was kidnapped and murdered in 1993. (AP Photo/Rich Pedroncelli)
Governor Gavin Newsom's executive order suspending the death penalty in California is drawing a swift response from critics…. One of them from the North Bay.
Marc Klaas, father of Polly Klaas, has been waiting 23 years for the death penalty to be administered to the man who killed his 12 year old daughter: 64-year-old Richard Allen Davis. Klaas, who is the president of the Klaas Kids Foundation from Sausalito, told KRON 4 the move by Governor Newsom a Travesty of justice.
He also pointed to the passage of Prop 66 and its approval which was meant to streamline the process for Death Row Penalty. Davis is one of the 737 inmates on Death having kidnapped and killed Polly Klaas of Petaluma in 1993.