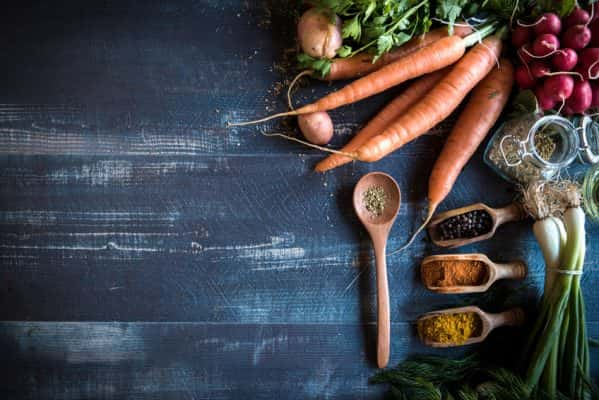 Cooking concept with vegetables and copy space in the middle on wooden background
TIMMY'S BROWN SODA BREAD
Makes one large loaf
8 ounces (1 1/2 cups) unbleached white flour
8 ounces (1 1/2 cups) whole wheat flour
2 ounces (6 tablespoons) kibbled wheat (use American cracked wheat)
2 ounces (6 tablespoons) granary flour (use American wheat bran)
1 teaspoon salt
1 teaspoon soda
2 tablespoons butter, cut into fine dice
1 egg
12 fl. ounces (1 1/2 cups) buttermilk
Preheat oven to 450 degrees.  Mix all the dry ingredients together in a large bowl.  With your fingers, mix and turn it for 2-3 minutes to lighten mixture and trap air into it.  With your fingers or with a mixer, quickly rub the butter so that no large lumps appear. Whisk the egg and buttermilk together, make a well in the center of the flour mixture and pour the buttermilk mixture in.  With your fingers, quickly mix in a circle to form a loose dough. This shouldn't take more than a minute or two. You want to be careful not to overmix.
Dust the top of the loaf with a little whole wheat flour, turn out the dough on a clean surface and (as Timmy notes) tidy gently around the edges.  Dough will be soft. Flip the loaf over onto a baking sheet and flatten slightly with your fingers. Loaf should be 2 inches or so thick. With a sharp knife cut a cross on top of the loaf about 1/2 inch deep and poke a hole in each quarter of the cross (this is to let the fairies out!).  Place in preheated oven and bake for 15 minutes. Reduce temperature to 400 degrees and bake for another 18-20 minutes. To check if the bread is done, tap the bottom and it should sound hollow. Cool on a rack.
John Ash © 1998
IRISH BROWN YEAST BREAD
Makes four 5×8" loaves
The amazing thing about this bread is even though it's a yeast bread it can be quickly made and requires little kneading.  The quality of the flour will of course determine the quality of the bread. Try substituting a little wheat bran, oat bran or cracked wheat for some of the flour for interesting variation.  The recipe uses a lot of fresh yeast which you get from a bakery supply store or your friendly local bake shop.
3 1/2 pounds (11 1/4 cups) whole grain flour
1/2 pound (1 1/2 cups) white unbleached bread flour
1 3/4-2 quarts lukewarm water
1-2 tablespoons black treacle or unsulphured molasses
3/4 cup fresh yeast
Vegetable oil for pans
2 tablespoons sesame or poppyseeds (optional)
In a large bowl, mix flours and salt together.  In a separate small bowl, mix 2 cups of the water, the molasses and yeast together and let them sit until active and very frothy.  Combine yeast and remaining water with flour and quickly, in as few turns as possible, mix ingredients together. Turn out onto a lightly floured surface and knead a few times to bring mixture together.
Divide dough into quarters and form into a loaf shape and place into oiled loaf pans.  Sprinkle optional seeds over top and place in a warm spot covered with a tea towel. In about 20 minutes loaves will have doubled in size.  Remove towel and bake in a preheated 450 degree oven for 40-45 minutes or until nicely browned and hollow sounding when tapped. For a crisp crust all around, remove the bread from the pans after about 35 minutes and put them back in oven on middle shelf for 10 minutes.
John Ash © 1998
Rev 9/98
Ballymaloe Salad with Shanagarry Cream Vinaigrette
Adapted with permission from the Ballymaloe Cookery Course Cookbook – 2007
Serves 4
Salad
• 2 hard boiled eggs, quartered
• A few handfuls of cherry tomatoes
• ½ English cucumber, sliced
• 4 radishes, sliced thinly
• 2 roasted yellow beets, sliced
• 2 scallions, chopped
• Mixed spring greens, butter lettuce or romaine or a combination of all
• Flat leaf parsley chopped
• Spring onion and watercress (optional)
Shanagarry Cream Vinaigrette
• 2 hard boiled eggs
• ½ tbls. Dijon mustard
• 1 tbls. brown sugar
• ¼ cup brown malt vinegar or apple cider vinegar
• 3 tbls. extra virgin olive oil
• ¼ cup cream
Make the dressing. Cut 2 eggs for the vinaigrette in half, sieve the yolks into a bowl, add the sugar, a pinch of salt and
the mustard. Blend in the vinegar, olive oil and cream. Chop the egg whites and add some to the vinaigrette. Keep the
rest to scatter over the salad. Cover the dressing until needed. To assemble the salads. Arrange salad greens on each of
4 plates. Scatter a few quartered tomatoes and 2 hard-boiled egg quarters, a few slices of cucumber and radish, 2 slices
of beetroot on each plate. Garnish with spring onion, watercress, and parsley and scatter the remaining egg white (from
the vinaigrette) over the salad. Put a tiny bowl of Shanagarry cream vinaigrette in the center of each plate and serve
immediately while the salad is crisp.
Beef and Guinness Stew
I make this stew every year, either for myself or a large
gathering. Either way, I always enjoy a frothy pint while
cooking; it's tradition!
Serves 4-6
• 2 lbs stewing beef cut into 1inch pieces
• 2 tbls. all-purpose flour, unbleached
• 1 large onion chopped
• 1 clove garlic
• 3 tbls. tomato paste
• 1-2 tbls. beef demi-glace (optional)
• 2 cups Guinness – plus one to sip on while you cook
• 2 parsnips cut into ½ inch pieces
• 2 carrots cut into ½ inch pieces
• 2 teas. fresh thyme leaves
• 2 tbls. flat leaf parsley chopped
Trim the beef of any fat, then pat dry with paper towels. Season with salt and pepper and sprinkle with flour. Heat olive
oil in a large Dutch oven and sear beef taking care not to crowd the pan. Work in batches if necessary. Remove the beef.
Add onions to the pan and sauté for 3-4 minutes. Add garlic, tomato paste and demi-glace if using. Start to scrap up any
brown bits from the pan, then add the Guinness to deglaze the rest. Return the beef to the pot with any juices, and add
thyme, parsnips and carrots. Bring to a boil, then reduce to a simmer. Taste for seasoning. Cover and simmer for 1-2
hours. Sprinkle with parsley before serving. Serve with boiled potatoes.