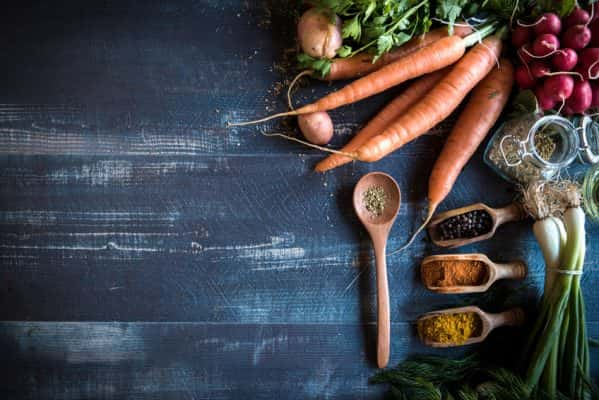 Cooking concept with vegetables and copy space in the middle on wooden background
SQUAB WITH POMEGRANATE, ORANGE, MARSALA AND HONEY
Serves 4
This is a recipe from my friend Joyce Goldstein.  Joyce is the author of many award winning cookbooks and an authority on the cuisines of the Mediterranean.  For twelve years she was Chef/Owner of the ground-breaking Mediterranean Restaurant, Square One, in San Francisco and this favorite recipe appeared in her cookbook Square One.  She is one of the most gifted teachers that I know. She notes that this a Renaissance inspired recipe from the Veneto. The sauce would work well on quail or duck. Serve with saffron risotto and sautéed spinach with pine nuts and you have a most elegant and dramatic plate that tastes as wonderful as it looks.  
4 butterflied squab
1/2 cup pomegranate molasses
1 cup orange juice
1 cup marsala
1/2 cup honey or to taste
2 cups reduced chicken stock
2 tablespoons grated orange zest
Salt and freshly ground black pepper
32 orange segments
1/2 cup pomegranate seeds  
Combine the pomegranate molasses, the orange juice, marsala and honey. Set aside 3/4 cup of this mixture. Place the birds side by side in a non corrosive container. Pour the rest the pomegranate mixture over the birds and marinate, covered, in the refrigerator for 6 to 8 hours, or overnight.  
Preheat the broiler to high or make a charcoal fire. Bring the birds to room temperature and remove from the marinade. Reserve the marinade for basting. Grill or broil the birds for 4 minutes on each side, or until medium rare. Baste a few times with the reserved marinade.  
For the sauce: Heat the reserved pomegranate mixture (not the marinade) with the reduced chicken stock and grated orange zest in small saucepan. Season to taste with salt and pepper. Turn off the heat and add the orange segments. Place the birds on serving plates, Pour the sauce and orange segments over the birds and sprinkle with pomegranate seeds.
Note: You may prepare 2 five pound ducks in a similar manner. Roast in 500 oven for an hour, basting often with the pomegranate orange mixture.  Make the sauce with reduced duck stock. Serve with the same accompaniments.