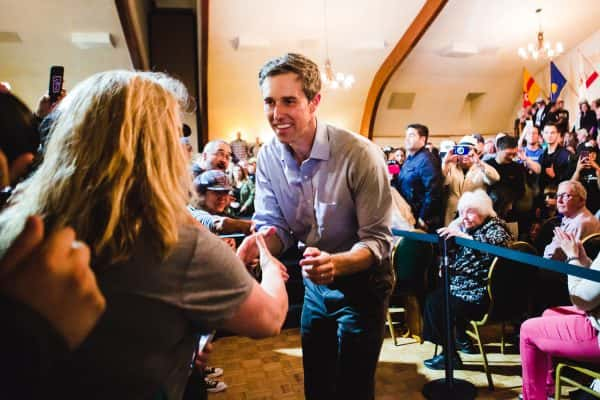 Beto O'Rourke address a crowd of supporters at San Francisco's Irish Cultural Center on April 28th, 2019. (Photo: Chloe Catajan)
Mike DeWald (@mike_dewald)
Texas presidential hopeful Beto O'Rourke brought his aspirations for higher office to the Northern California stage in a Sunday afternoon town hall at San Francisco's Irish Cultural Center. The stop marked the midpoint of a weekend traveling throughout the state, his first extended run of California campaigning since officially announcing his run last month.
The former Texas Congressman looks to break through a crowded field of Democratic candidates and close the gap between current front-runners Joe Biden and Bernie Sanders. O'Rourke's fundraising was strong out of the gate, posting $6.1 million from 128,000 donors in online donations in the first 24 hours of his campaign – a number positioning him firmly between the likes of Sanders and Biden in fundraising. The challenge for O'Rourke becomes elevating his campaign above a tight group of younger Democrats representing the party's next generation of leadership, O'Rourke consistently polls in the top 6 of democratic hopefuls.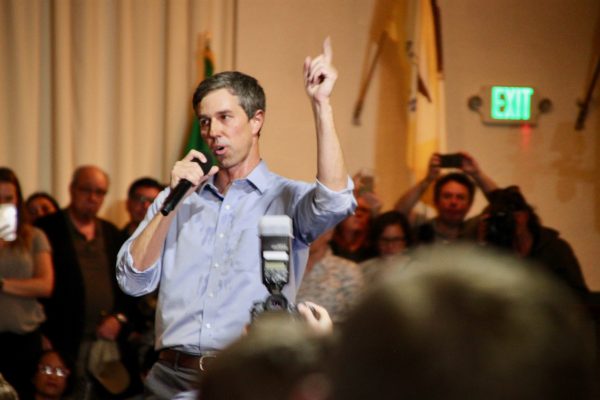 Sunday's afternoon town hall event had an 'in the round' arena rock concert feel with a small square raised stage set in the middle of the historic venue. Throngs of Beto supporters, a majority of them younger millennial-aged voters surrounded the standing room only stage in a pseudo-mosh pit of upwards of 800.
North Coast Congressman Jared Huffman, O'Rourke's former DC roommate, took the stage as his opening act. Huffman spoke to the personal moments he spent getting to know O'Rourke during their collective time in Congress. Huffman spoke specifically to O'Rourke's work on environmental issues as one of the major factors for his support.
"Beto is speaking to this moment with moral clarity like no one else," said Huffman, firing up the Bay Area crowd.
The man of the hour finally took the stage to chants of 'Be-to', opening his speech with humor talking about his time as Congressman's Huffman roommate, noting the California Congressman was also his landlord.
"You were there for us in that Senate campaign in Texas," said O'Rourke "I am grateful for that, and I am grateful for this."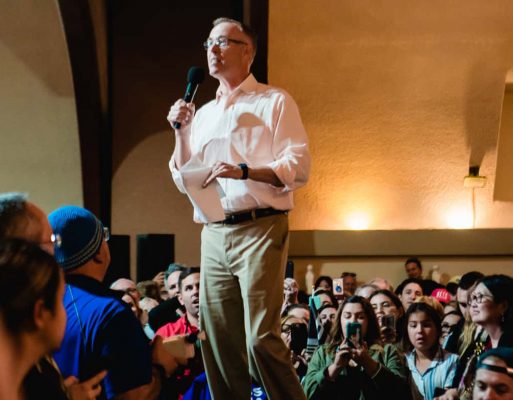 The two-time Texas Congressman vaulted to 'next big thing' status during his Texas Senate run to unseat Ted Cruz in 2018. While the run came up short, O'Rourke pulled in a record haul of fundraising of over $80 million. O'Rourke's campaign has put a focus on the grassroots nature of the effort, touting that O'Rourke has personally driven  over 4,000 miles across the country, talking to voters in 86 cities in 12 states.
"Beto's senate campaign accelerated Texas' transition to a battleground state by several years," says Texas-based democratic political consultant Jason Stanford, "He got people to believe that mobilizing voters could actually things, and despite his loss I think people still feel that way."
After the lighter start, O'Rourke went rapid fire into the issues speaking on the environment, drug incarceration, and immigration – taking a moment to address the crowd in Spanish multiple times throughout his remarks. O'Rourke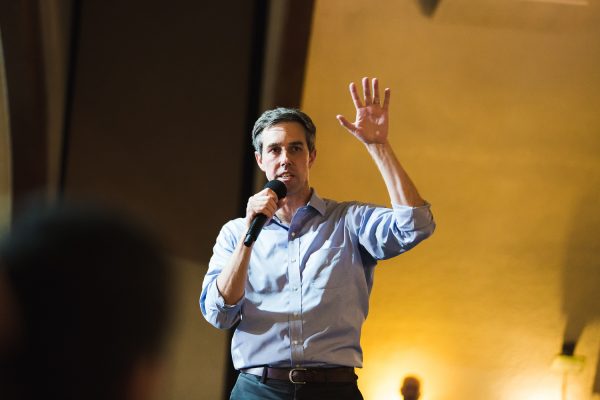 "Democracy is not just limited to political democracy, but economic democracy," said O'Rourke.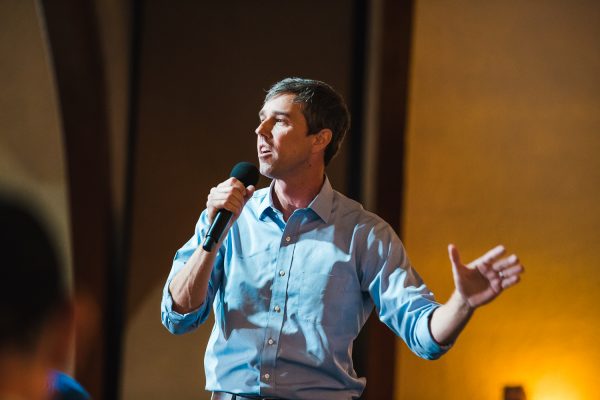 O'Rourke took on campaign and voting reform, speaking to the access to voting and issues of gerrymandering and their impact on social inequality.
"I want you to be able to start a punk rock band and tour the country, if that's what you were put on this planet to do," said O'Rourke.
O'Rourke didn't mention the president by name, but his sharpest criticisms of the current administration came in speaking against the administration's family separation policy at the border. O'Rourke referenced his El Paso rally, which competed with the President's own Texas rally.
"We need to re-write this country's immigration laws in our own image," said O'Rourke.
O'Rourke referenced the recent California wildfires as one of the biggest warning signs of climate change.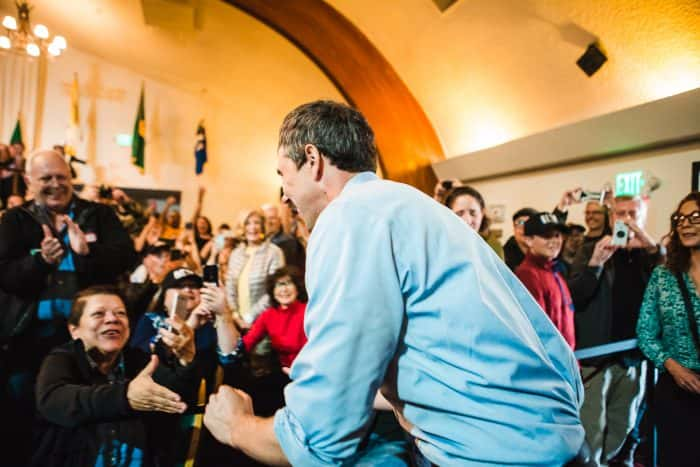 "These fires defy every single one of those records, " said O'Rourke,  "This is not caused by God or Mother Nature, but our own inaction."
After a 30 minute-plus speech, O'Rourke turned over the town hall to the audience, taking questions and comments from the Bay Area crowd. Questions ranged from voting rights, money in politics, and the environment to the candidate's preference in El Paso taco joints.
An overflow crowd gathered outside the standing room only gathering, but were given access to ask questions during the event. O'Rourke referenced the recent release of the Mueller report, saying the report's conclusion raised concerns.
"If it wasn't collusion, he certainly invited their participation," said O'Rourke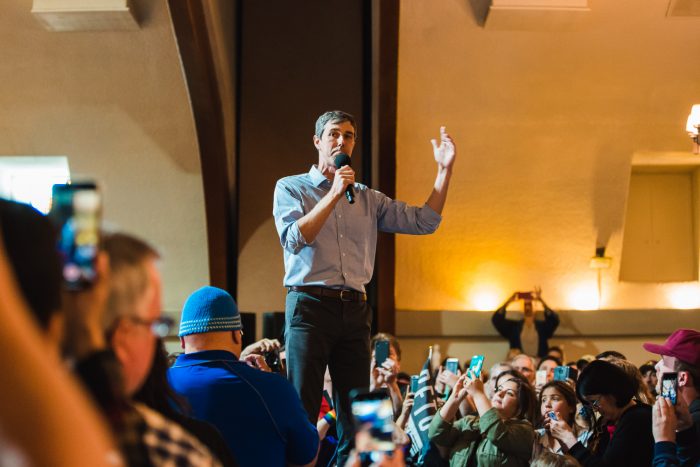 The path forward isn't without its challenges, Stanford warns that the national spotlight creates a new set of hurdles for the upstart candidate.
"When he was running for senate, everything he did was a discovery for voters, it was like falling in love." says Stanford, "Now people are falling in love with Elizabeth Warren, Kamala Harris, and Pete Buttigieg – Beto now seems like the guy you've been dating for a couple years but don't intend to marry."