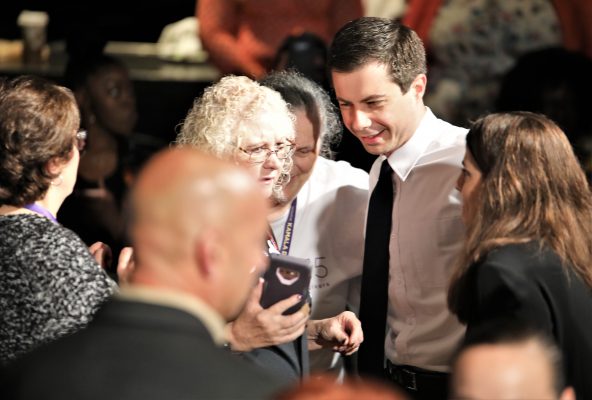 South Bend Mayor Pete Buttigieg speaks to California SEIU workers at an annual breakfast prior to the California State Democratic Party Convention (Photo: Will Bucquoy)
Mike DeWald // @mike_dewald
As many delegates and attendees were getting up and preparing to make their way to San Francisco's Moscone Center to take part in the annual State Party Convention, six Democratic hopefuls were already making their appeals to a group of gathered labor leaders at the SEIU's annual breakfast. The union's annual event featured speakers Pete Buttigieg, Amy Klobuchar, Kamala Harris, Beto O'Rourke, last minute addition Jay Inslee, and Bernie Sanders addressing the gathering and making their pitch as to why they are the best candidate for the coveted endorsement from labor. The event was organized by the California state SEIU.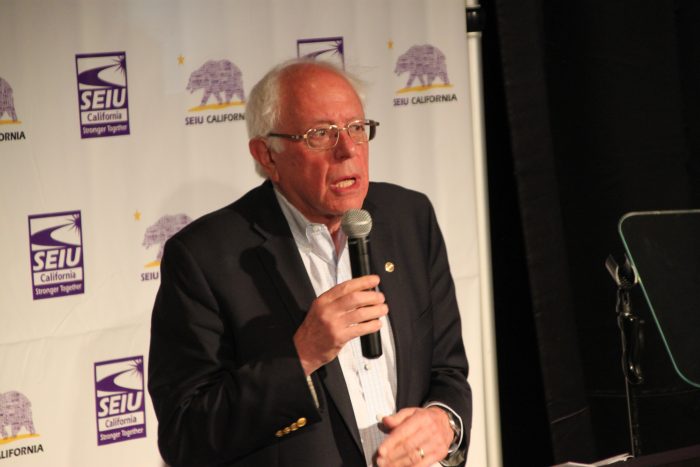 The event provided a particularly timely opportunity for candidates looking to make inroads with labor, a voting bloc that has traditionally shown strong support for former Vice President Joe Biden. But with the Vice President not attending the weekend's events, the candidates had their opportunity to lay out their platform in the form of roughly 5 minute stump speeches.
The candidates took very different tacts in the way they tackled addressing the packed house of union leaders at SF's Table Top Tap Room. Candidates like South Bend Mayor Pete Buttigieg and former Texas Congressman Beto O'Rourke stuck to the big picture messaging of their stump speeches – speaking to the issues of the day, the economy and the future. Some candidates made direct appeals to the union members in the audience and touted their pro-union backgrounds.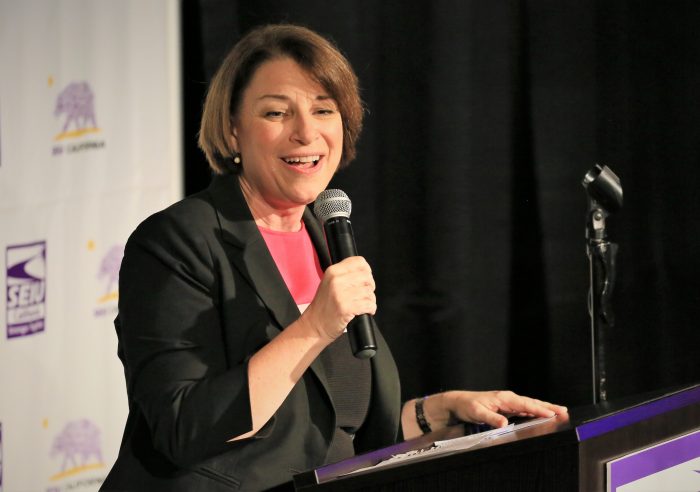 Senator Amy Klobuchar focused on coming from a union family, while Senator Bernie Sanders talked about union issues including raising the minimum wage, the 'fight for 15', and a living wage for union workers. Senator Kamala Harris used her distinct home field advantage to connect with the audience, drawing comparisons between her past accomplishments and her campaign platforms. Harris and Sanders were the only candidates to dig a little deeper into specific policy proposals during the course of their remarks.
The room was energized, with union workers speaking between each of the candidates, talking about some of the most pressing issues facing unions currently. After each candidate made their remarks, they took to the crowd for handshakes, photos, and selfies. The hometown crowd gave Senator Kamala Harris the morning's most enthusiastic welcome, mobbing her for photos after her speech and a large crowd of supporters cheering her on as she exited the venue. Sanders and O'Rourke also drew enthusiastic responses from the audience.