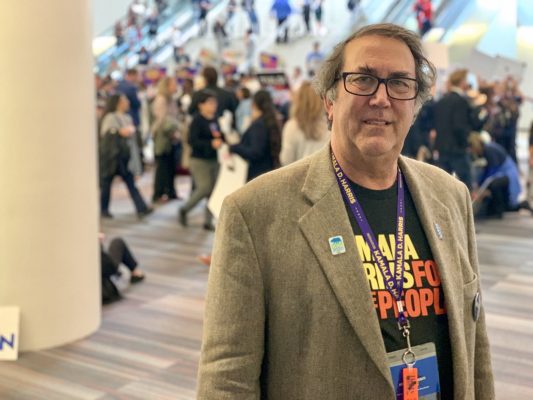 Sonoma County Democratic Party Delegate Jeff Parr attends the California Democratic Convention (Photo: Mike DeWald)
Mike DeWald // @mike_dewald
More than 3,400 delegates are attending the California Democratic Party's annual convention at San Francisco's Moscone Center this weekend. Delegates to the event attend attend caucus meetings, vote on party platforms, and hear from the candidates seeking the Democratic nomination. Saturday night delegates also elected L.A. labor leader Rusty Hicks as the new Chairman of the state party. Jeff Parr is a Santa Rosa-based delegate appointed by Congressman Mike Thompson. Parr is a retired letter carrier as well as a retired combat veteran. Parr is attending this weekend's convention to learn more about the large number of candidates running for the country's highest office.
"Being part of the convention and hearing from future leaders and helping to determine policy and platform are some of the most important parts of being here," says Parr of the busy weekend.
Parr echoed the words of House Speaker Nancy Pelosi in saying that Democrats rarely think in lock step, and that debate is on full display this weekend on the convention floor. One of the most debated issues among California Democrats throughout the weekend concern whether to pursue impeachment of President Donald Trump. The impeachment conversation has ramped up in recent weeks with both Senators Elizabeth Warren and Kamala Harris calling for opening up impeachment proceedings. Parr says he falls in closer to Speaker Pelosi in not pursuing impeachment, rather continuing to pursue facts and investigate. The issue has been one of the sharper divides within the party, separating the centrist Democrats with the party's progressive wing.
"Part of this is political, knowing the Senate would never convict," says Parr.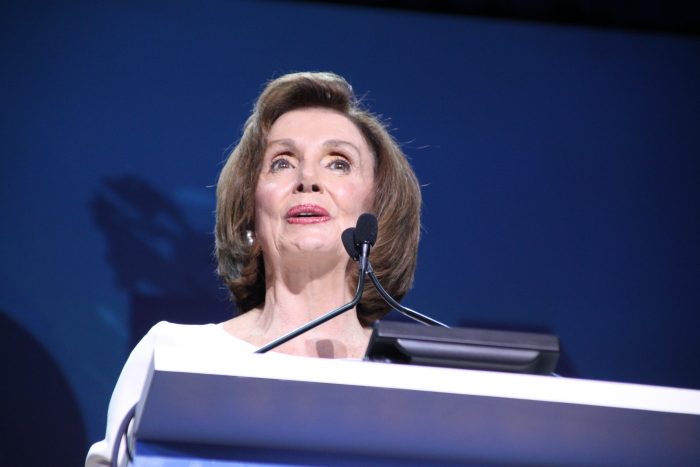 Parr says the party platform issues most relevant to Sonoma County are being heard in the rural caucus, including the issues of housing, water, and broadband connectivity. Parr says he's a Harris supporter, attending her Oakland kick off rally a number of months back, but also looked forward to the opportunity to hear from the lesser known candidates speaking at the convention to learn more about their platforms and positions. Parr looked forward to hearing from Bernie Sanders, Pete Buttigieg, and Beto O'Rourke as well during the convention.
"Bernie is really exciting, but so many of this year's candidates have taken up the issues that he brought forward in 2016," says Parr, "I just think we need some newer blood."
West County convention delegate Mike Nicholls says he was impressed by speeches from Corey Booker, Pete Buttigieg, and Beto O'Rourke. The convention continues Sunday morning in San Francisco.