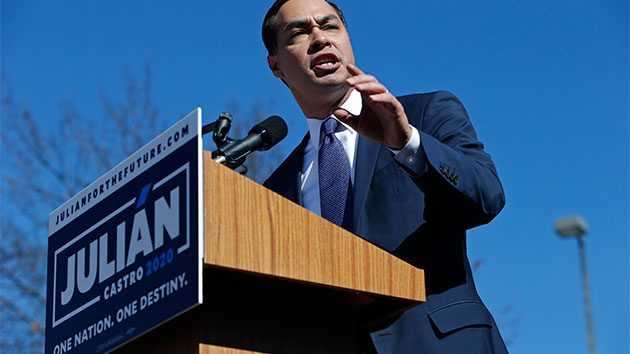 Edward A. Ornelas/Getty Images
Listen to the full interview with former HUD Secretary Julián Castro below
For former HUD Secretary Julián Castro, all politics isn't just local, it's personal. The foundation of the former Obama-appointee's political career was built in the chambers of San Antonio City Hall, both on the City Council and as Mayor of the city of nearly 1.5 million people. That experience gave Castro a unique perspective at the way that policy connects with people, it's a mindset that Castro has applied to his national campaign in running for the Democratic nomination for President.
"Hearing the everyday concerns about things as simple as drainage or streets or zoning, it runs the gamut, but it's very close to the people," said Castro, "the thing that I got out of it most is an understanding about how all of these things are connected."
Castro recalls a moment when a constituent came up to him after a budget meeting to ask whether he would support putting sidewalks on her mother's street. The woman's elderly mother had recently been diagnosed with diabetes and had a recommendation from her doctor to walk to assist with circulation, but couldn't because of the lack of sidewalks in her neighborhood.
"It was the first time the light bulb went off as a young policymaker how all of these things are connected," recalled Castro, "something as simple as infrastructure, like sidewalks, with somebody's health, with safety, with quality of life in a neighborhood; it's not a 30,000 foot view, it's how people are living it."
A President faces a litany of national and international issues in office, but just as important are the everyday domestic issues, challenges that most directly trickle down to people's lives. On an issue like housing, a challenge no more relevant to Sonoma County, Castro envisions the federal government playing a primary role in supporting local communities to develop housing solutions. Castro says the current housing efforts by the current administration have been lacking.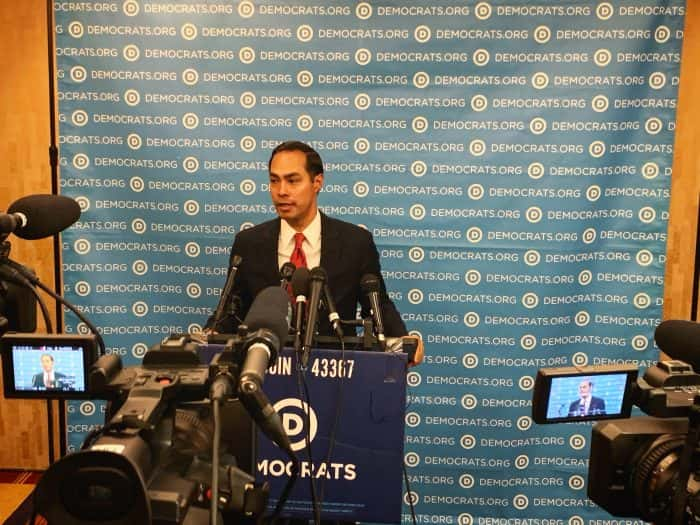 "Unfortunately, we've gone backwards in the last few years and the needs out there are tremendous" says Castro, "we have a rental affordability crisis in this country, and there's no better example of that than this Bay Area."
Castro proposed what he called his 'People First' housing plan, which calls for investment in 3 million more housing units for middle class, the working poor, and the poor.
"Too many families are having to spend forty or fifty or sixty percent of their income on rent, and even more here in San Francisco," says Castro, "we have a robust role to play in sparking greater housing opportunity."
On immigration, Castro speaks with a calm passion on the issue that played out on his doorstep in San Antonio. He had sharp criticism about the Trump administration's current border policy, a policy he says is designed to make it as hard as possible on migrants coming to the country.
"We need a plan for immigration that maintains border security, but chooses common sense and compassion over cruelty," says Castro, "this President has chosen cruelty – separating families, having these little kids sleeping on cold floors with Mylar blankets with no soap and no toothbrush."
Castro says his plan for immigration would provide some dramatic shifts from the current policy.
"I believe we should keep families together," said Castro, "we need to work as hard as we can to find the relatives, that often live in the United States, of people who are here as unaccompanied minors."
He says that undocumented immigrants that have not committed a serious crime should be put on a pathway to citizenship, which Castro is quick to point out, is an issue in itself.
"Our legal immigration system is broken, it would take twenty years for someone to fully become a citizen, it shouldn't take that long," says Castro.
Along with fixes to the legal immigration system, he also proposes what he calls a '21st-century Marshall Plan' to work with the Central American to improve the conditions that lead their population to flee in the first place.
Castro's campaign received early praise for is thorough policy proposals which drove parts of the discussion in Democratic policy conversations. Another trademark of Castro's campaign is his thorough policy plans for issues that don't typically receive as much attention on national debate stages. The candidate recently released his plan for animal welfare – an ambitious policy plan aimed at reversing many of President Trump's Endangered Species Act rollback. Castro said the idea for the plan stemmed from his work in San Antonio with 'no-kill' animal shelters.
"San Antonio used to be one of the worst cities in the country for euthanizing cats and dogs, at one point I think the rate was worse than Los Angeles," said Castro, "I determined that we were going to become a no-kill city, and we were able eventually to accomplish that."
Castro said after the plan's release he was asked 'well, what about people?' – he said he was comfortable that the campaign had released a wide-range of extensive policy plans that impacted people, that he felt it was the right time to released a plan for animal rights as well. Castro said part o the plans development was born out of a frustration with the Trump Administration relaxing regulation and transparency on animal-related issues.
"Trump has been the worst President when it comes to animals," says Castro.
It's still a long road ahead for the candidate as he works to push toward the upper tier of a crowded field of Democratic hopefuls. Castro is one of the ten current qualifiers for the upcoming September debate in Houston, hosted by ABC News & Univision.