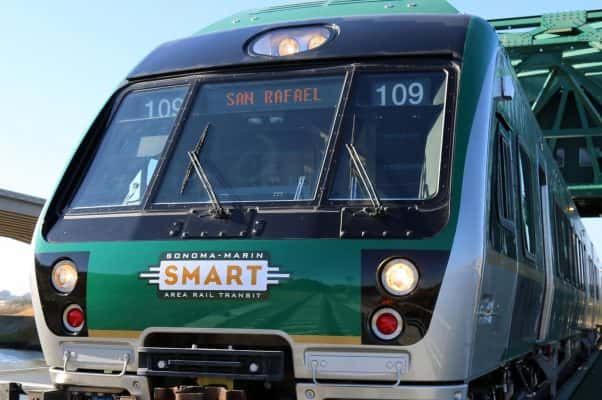 Mike DeWald (@mike_dewald)
As the California primary and Super Tuesday fast approaches and many eyes watch the ebbs and flows of the Democratic presidential primary, a fierce spending battle rages over a Sonoma County ballot measure aimed at extending a sales tax to fund the SMART rail services. It's an unprecedented fight that's become the most expensive campaign in Sonoma County history. As it stands, the roughly $2.8 million fundraising that's poured into both sides of the campaign currently outpaces the combined local donations to the entire field of presidential candidates. By Double.
The influx of cash began in January when the No on I campaign received a $500,000 donation from Molly Gallaher Flater, chief operating officer of Gallaher Homes and the daughter of prominent Sonoma County developer Bill Gallaher. In response, the Federated Indians of Graton Rancheria pledged $1 million in support of the Measure I campaign, leading Flater to add another $290k to the 'No' side. The spending has escalated to a multi-million dollar spending campaign that has played out in print, on radio, in mailboxes, and digitally.
By comparison, Sonoma County spending towards the presidential race has totaled roughly $1.49 million among all of the candidates of both parties combined. KSRO Political Analyst and Sonoma State University Political Science Professor David McCuan said that the campaign cash is at a level never seen in Sonoma County.
"The power of money and the power 'No' is reflected by the unprecedented contributions of dollars in the SMART campaign," said McCuan, "This isn't just record setting. It's mind-blowing and record-destroying."
Opponents of the tax extension have criticized the rail service over a lack of transparency and a mismanagement of funds. Supporters of SMART say that the measure is vital to keep adequate train service and agency staffing.
The battle is very much a microcausum of what's to come in November statewide in California with even more unprecedented spending on state ballot measures. Election analysts say that spending over ballot measures in November could potentially reach up to $2 billion to $3 billion, by comparison spending on the presidential race will reach around $6-$8 billion. That would put California's ballot measures as the second highest campaign expenditures in the world, second only to the presidential race.
In terms of presidential donations in Sonoma County, Vermont Senator Bernie Sanders leads the way among Sonoma County voters pulling in almost $520k. He's followed by Senator Elizabeth Warren at $359k, former South Bend Mayor Pete Buttigieg at $322k, and former Vice President Joe Biden at $151k. President Trump took in $36k towards his re-election campaign from Sonoma County.