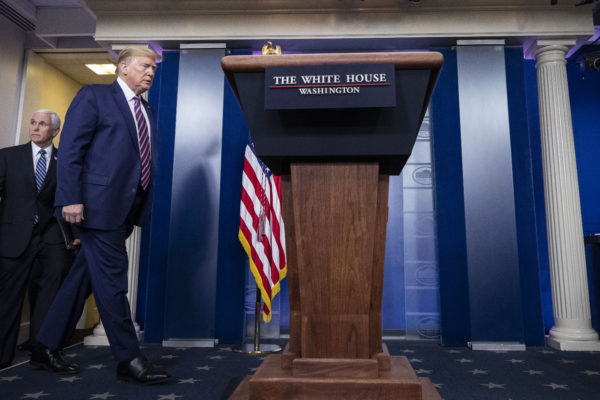 President Donald Trump, followed by Vice President Mike Pence, arrives to speak about the coronavirus in the James Brady Press Briefing Room of the White House, Friday, April 24, 2020, in Washington. (AP Photo/Alex Brandon)
Mike DeWald (@mike_dewald)
Listen to full interview audio of ABC Chief White House Correspondent and author of "Front Row At The Trump Show" Jonathan Karl, in conversation with KSRO's Mike DeWald and SSU Political Scientist Dr. David McCuan:
ABC News Chief White House Correspondent Jonathan Karl has a unique perspective when it comes to the presidency of Donald Trump. In covering the day to day developments of the White House, Karl draws up on nearly three decades of covering Donald Trump.
"I've had some incredibly fascinating interactions with him, I've had him scream at me in private with profanities, I've had him call me up in the most cordial way and give me a story," said Karl, "I've just witnessed him in many ways I just haven't been able to describe in my day to day reporting."
Karl used the opportunity to take a step back from the intense grind of daily reporting to compile his experiences into his latest book "Front Row At The Trump Show." The book not only looks back on the President's time in office, but also takes a hard look at the media climate that has been created through Donald Trump's presidency.
"The whole notion of truth has eroded, we have a good chunk of the country that will not believe anything that comes out of this White House," said Karl, "but we have another good chunk of the country that won't believe anything they say in a newspaper unless it's an outlet that comes from their point of view."
Karl said that a lack of understanding of what the facts are creates a disturbing development for reporters that could become a lasting trend.
"I don't know that it does snap back to normal after this is over, I really don't," said Karl.
For all the controversies over the President's public statements, a theme of conflict that has very much defined the Trump presidency, Karl said that the message is general driven by the President himself. One of the President's most recent controversies centered around his suggestions that researchers look into utilizing he injection of disinfectants as a potential avenue to finding a treatment for COVID-19.
"I think that Donald Trump drives almost all of this," said Karl, "Donald Trump drives the message, he does listen to people, but for something like this disinfectant thing – that's pure Donald Trump."
Many outsiders often look at the voices around Trump as having a major sway on his policy decisions, such as confidant Rudy Giuliani, Vice President Mike Pence, or Senior Advisor Stephen Miller. Karl said that ultimately, the President himself is the one calling the shots.
"Stephen Miller is the hard line immigration voice in the White House," said Karl, "but – is he? Or is Donald Trump the hard line voice inside the White House?"
Karl recounts a phrase from an interview with Barbara Walters back in the 80s that still defines much of the President's mindset.
"He says: 'the prize fighters have a phrase: you roll with the punches' because you don't know what the next 30 seconds are going to be let alone the next six months, that's Donald Trump." said Karl, "He's his own Press Secretary, he's his own Communications Director, he's his own Chief of Staff, he's his own National Security Advisor – he has people around him that carry those titles, but he's the one that really drives this."
Karl said one of the most moderating forces, at least indirectly, for the President was former Chief of Staff John Kelly. Kelly ran a tight ship in the White House, carefully monitored who the President was communicating with, and often put ideas he thought were overly outlandish quietly on the back burner.
"When the President said crazy things or proposed ideas that were out there, he stopped them," said Karl, "he didn't necessarily confront the President, he often didn't, but he would just 'yes' the President then quietly put that idea in the trash can."
While Kelly didn't grant an interview for the book, he did allow Karl to use any information that he gave to the reporter off the record during his time in the White House.
Karl recounts a story when H.R. McMaster was briefing the President about the deteriorating situation in Venezuela. The President was already not fond of McMaster, in part due to his style, and was growing impatient with the briefing."
"I want a war plan, damnit, where's the war plan?" Karl recalled of Trump.
The meeting ended with Trump demanding McMaster contact the Pentagon to draw up a war plan. As McMaster walked back to his office, intent on making the call to the Pentagon, Kelly hurriedly tracked him down to tell him to scuttle the idea, that the leaks would be damaging, and that there would be no war plan. According to Kelly, these moments of damage control aversion were not uncommon, said Kaid.
"He told that kind of stuff happened all the time, all the time," said Karl, "McMaster would tell the President something wasn't a good idea, but he felt that if the President still wanted to do it, it was his job to either resign or carry out the orders."
Karl said an inflection point of the presidency was the reaction to the protests in Charlottesville. The President do not receive any private push back from his own staff about his 'very fine people' comment during one of his press conferences, though staff thought they were comments he would never make in a public arena. Karl said that while there are some similarities in his handling of the current protests against stay at home orders, there are some key differences.
"When the President sees these protesters, they're actually protesting his own policies," said Karl, "these protesters are rebelling against the CDC guidelines, with some even saying that the coronavirus is a myth, and that's not where the President is at."
Where he does see commonality is that, in many cases of these protests, the individuals generally tend to be supporters of the President.
"He see these protesters out there protesting the stay at home orders, and he says many of them out there wearing 'MAGA' hats, and he doesn't want to criticize them"