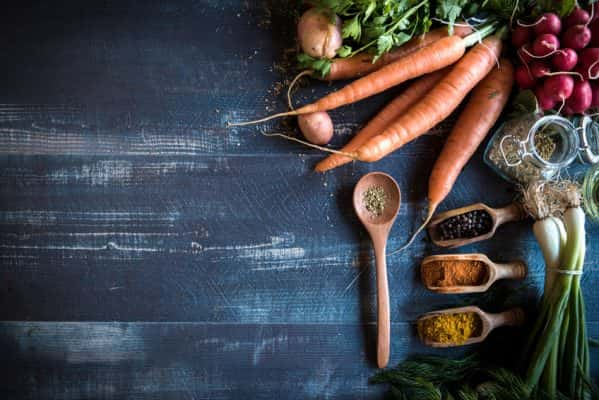 Cooking concept with vegetables and copy space in the middle on wooden background
Spicy Yogurt Marinated Lamb Kebabs
4 servings
When it comes to a great way to enjoy lamb it's pretty hard to beat lamb kebabs and one of my favorites has always been the classic mixture of fresh lemon, fresh oregano, garlic and olive oil. These flavors pair well with lamb and the time spent in the marinade effectively allows their flavors to penetrate into the meat resulting in something truly delicious. But lemon and oil are not the only vehicle used to transplant spices and flavor lamb. Yogurt, especially in Middle Eastern and Pakistani cooking, is also a great way to marinate meat especially when combined with aromatic spices. Who doesn't love tandoori marinated chicken or lamb? This recipe too is inspired by those tandoori traditions.
2 tablespoons chopped fresh mint
2 tablespoons minced garlic
1 tablespoon grated lemon zest
¼ cup lemon juice
1 cup whole milk or low fat yogurt
1 teaspoon freshly ground pepper
2 teaspoons ground coriander
1 teaspoon ground ginger
1 teaspoon turmeric
1 teaspoon ground cumin
1 tablespoon Hungarian or Spanish paprika
2 pounds leg of lamb or lamb sirloin cut into 1½-inch cubes
1 red onion, cut into 1-inch chunks
1 large red bell pepper, cut into 1-inch squares
1 large yellow bell pepper, cut into1-inch squares
4 yellow zucchini or crook neck squash cut into 1-inch rounds
1. Combine all the marinade ingredients in a bowl and mix well. Set aside ½ cup and refrigerate.
2. Place lamb cubes in a 1-gallon zipper-lock bag and pour over remaining marinade. Seal bag and massage into the meat. Place the bag in a pan in case there is a leak. Refrigerate overnight (up to 30 hours) and turn bag from time to time to redistribute the marinade.
3. Build a medium hot charcoal or gas fire. Remover meat from the marinade. Shake off excess marinade and discard the marinade. Thread meat onto skewers alternating with chunks of onion, bell pepper and zucchini or squash. Brush the vegetables generously with the ½ cup of reserved marinade. Oil the grill and grill skewers over direct heat turning the skewers every 2-3 minutes until the meat has begun to color and is firm to the touch and the vegetables are browned on the edges. Remove the meat and vegetables from the skewers and mound on a platter and serve.
Recipe courtesy of Bruce Aidells