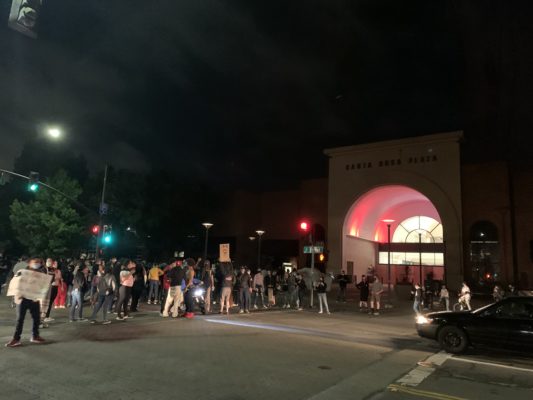 Protestors attempt to break in to Santa Rosa Plaza in Santa Rosa at a Demonstration for Minnesota's George Floyd. Photo: Mike DeWald
The City of Santa Rosa announced Monday the implementation of a citywide curfew following two nights of protests in downtown Santa Rosa. The curfew goes into effect Monday night at 8:00p through 5:00a and will remain on Tuesday and Wednesday night in an attempt to contain some of the more aggressive protests seen in the late evening hours over the weekend.
The curfew is mandatory and requires all people within the City of Santa Rosa to stay at home from the hours of 8:00 p.m. until 5:00 a.m. Individuals exempt from the curfew include:
Law enforcement personnel, firefighting personnel, emergency health care providers and other emergency personnel deployed in the area
Credentialed media representatives
Individuals who are in such place for the sole purpose of traveling to and from work or to obtain medical assistance
Persons who are experiencing homelessness who remain sheltered in place in a single location
In addition, the city also declared a state of emergency which would be in effect through Thursday June 4th. Santa Rosa Police are asking the community for voluntary compliance, but will have the ability to cite violators if necessary.