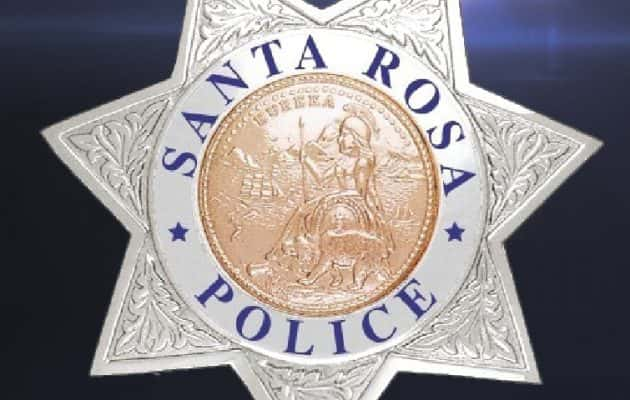 The Santa Rosa Police Department has released the following:
"On May 31, 2020, at 5:00 PM, numerous people began to gather on Old Court House Square (OCHS) to protest police brutality.  Over several hours, the group grew to approximately 300 people and was peaceful. At approximately 8:00 PM, groups of people began blocking the intersection of Third Street and Santa Rosa Av.  Several subjects were using spray paint on the street and objects on OCHS.
At approximately 9:00 PM, the crowd began to walk westbound on Third Street, toward the 101 Highway on-ramp and off-ramps.  Protesters engaged with officers, but remained peaceful and did not get onto the freeway.  Eventually, a few protesters began throwing water bottles at officers, who were blocking the off-ramp to northbound Highway 101.
At 11:20 PM, more than 100 people walked onto the A St, behind the Downtown Plaza Mall.  Several people broke windows on businesses and went inside, with the intent to loot businesses.  With the assistance of the Sonoma County Sheriff's Office, law enforcement quickly removed people out of businesses and away from the Plaza Mall.
While the looting occurred, another group began a sideshow in the intersection of Fourth St and Mendocino Av.  Physical fights also broke out began different sets of protesters.  Based on the looting, vandalism, violence, and sideshows, officers on the scene gave numerous orders to disperse because the gathering became unlawful.  At 11:53 PM, SRPD officers, law enforcement agencies throughout Sonoma County, Napa County, Marin County, and CHP (both local and SF) assisted with dispersing individuals after they were directed to leave.  The dispersal took approximately two hours.  Throughout the dispersal, subjects continually threw bottles, rocks, and fireworks at officers.
One arrest was made for looting at the Downtown Plaza Mall.  Thousands of dollars of damage were done to City property and numerous businesses.
The Santa Rosa Police Department is committed to protecting its community, citizen's right to assemble & protest, and our officers in the field.  It is our hope that any future protests will be peaceful to allow all citizen's the opportunity to have their voice heard, in a safe space.
We encourage anyone who witnessed criminal activity to immediately call and report the activity to the police department at (707) 528-5222"