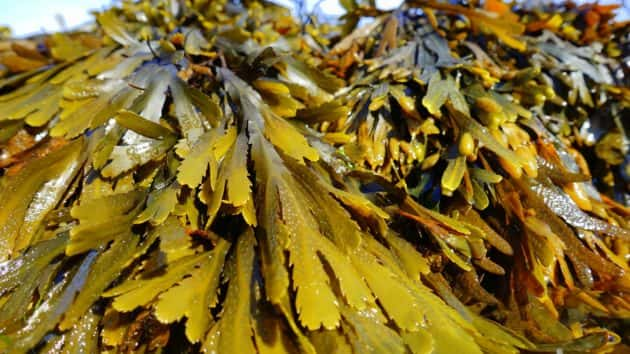 SEAWEED AND TOFU BEIGNETS WITH LIME MAYONNAISE
6 Servings
Lime Mayonnaise:
1 large egg yolk*
1 tsp. finely grated lime zest
2 tsp. fresh lime juice
1 cup grapeseed or vegetable oil
Kosher salt
Seaweed and Tofu Beignets:
½ cup dried wakame (seaweed)
1½ cups all-purpose flour
1½ tsp. baking soda
1½ tsp. kosher salt plus more
1 large egg yolk
3 oz. soft (silken) tofu (about ⅓ cup)
1 cup (or more) club soda
Vegetable oil (for frying; about 3 cups)
For the mayonnaise: Whisk egg yolk and lime zest and juice in a medium bowl. Whisking constantly, slowly add oil, drop by drop at first, and whisk until mayonnaise is thickened and smooth. Season to your taste with salt. Mayonnaise can be made 1 day ahead. Cover and chill.
For the Seaweed and Tofu Beignets: Place wakame in a small bowl; add warm water to cover. Let stand until softened, about 10 minutes. Drain; squeeze wakame to remove excess water and coarsely chop. Whisk flour, baking soda, and salt in a large bowl. Whisk in wakame, egg yolk, tofu, and 1 cup club soda, adding more club soda if batter is too thick (it should be the consistency of pancake batter.)
Fit a medium saucepan with thermometer; pour in oil to measure 2 inches;. Heat over medium- high heat until thermometer registers 350°. Working in batches and returning oil to 350° between batches, drop tablespoonfuls of batter into oil and fry, turning occasionally, until crisp, cooked through, and deep golden brown, about 4 minutes. Transfer beignets to a paper towel–lined plate; season with salt.
Dot serving plates with lime mayonnaise and place beignets on top.
Do ahead: Batter can be made 1 hour ahead (do not add baking soda and club soda). Cover and chill. Bring to room temperature and whisk in baking soda and club soda just before frying.
NORI-SESAME BUTTER
Makes 1/2 cup
1/2 cup (1 stick) unsalted butter, room temperature
2 teaspoons toasted white sesame seeds
2 teaspoons toasted black sesame seeds
1/2 sheet toasted nori, finely chopped
Kosher salt
Put butter on a work surface and sprinkle sesame seeds and nori over butter. Season with salt. Using a knife, finely chop together until well combined. Transfer butter mixture to a sheet of parchment paper, wax paper, or plastic wrap, placing on edge closest to you. Fold paper over and roll into a cylinder, twisting the ends; wrap airtight in foil. Chill until solid. Butter will keep refrigerated for up to 2 weeks or frozen for up to 3 months.
WAKAME-CUCUMBER SALAD
4 Servings
1-ounce dried wakame
1/2 cup distilled white vinegar
2/3 cup sugar
3 tablespoons kosher salt
1 teaspoon black peppercorns
1/2 English hothouse cucumber or 2 Kirby cucumbers, sliced 1/4 inch thick
1/4 medium daikon (Japanese white radish; about 6 oz.), peeled, thinly sliced
Soak wakame in a small bowl of cold water 20 minutes. Drain and squeeze wakame gently to remove excess water. Cut into 1–2" pieces. Meanwhile, bring vinegar, sugar, salt, peppercorns, and 2 cups water to a boil in a medium saucepan, whisking to dissolve sugar and salt. Let cool. Combine wakame, cucumber, daikon, and pickling liquid in a medium bowl. Cover and chill at least 24 hours. Drain excess liquid just before serving.
DO AHEAD: Salad can be made 3 days ahead; keep refrigerated
John Ash © 2020