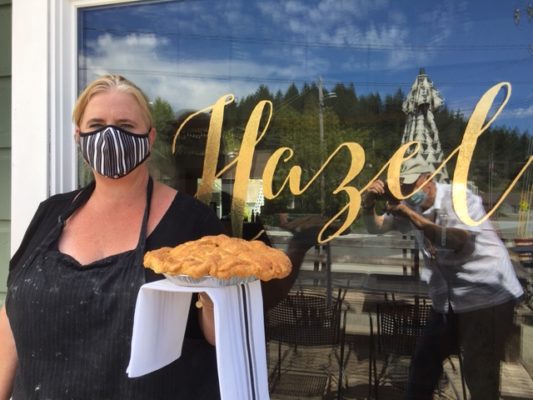 Recipe courtesy of Michele Wimborough of Restaurant Hazel in Occidental
GRAVENSTEIN APPLE PIE WITH CIDER CARAMEL
CIDER CARAMEL:
4 cups apple cider
½ cup brown sugar
2 TB unsalted butter
Heat the cider over high heat until it reduces to 2 cups, approximately 30 minutes. Add in brown sugar & butter and reduce to 1 ½ cups. Cool.
ALL BUTTER CRUST (for 2 pies):
24 oz all-purpose flour
1 lb unsalted cold butter
8 oz ice water
1 tsp kosher salt
½ tsp sugar
Cube the cold butter into ½ pieces. Add flour, salt & sugar to bowl of stand mixer. Mix to combine. Add cold butter to the bowl and mix on low until the butter is pea size. Add the cold water and mix just until combined. Separate the crust into 4 equal pieces. Wrap in plastic wrap and chill for at least 1 hour before using.
Roll out dough and add to pie pan. Chill for 1 hour.
Roll another piece of dough for lattice strips, cut and chill.
FILLING:
8 Gravenstein apples, peeled & cored
¾ cup sugar
1 tsp cinnamon
1 tsp ginger
¼ tsp allspice
1 TB unsalted butter
1 tsp lemon juice
1 pinch kosher salt
2 TB all-purpose flour
2 TB cornstarch
¼ cup cider caramel
1 egg, mixed with 1 TB water for glaze
Sanding sugar
Mix the apples, sugar, salt, lemon and spices together. Melt the butter in a saute pan. Add the apple mixture and cook on low for 10 minutes until apples are softened. Remove from heat and add corn starch, flour and cider caramel.
Add apples to chilled pie shell. Alternate strips of lattice over pie. Brush with egg wash, sprinkle with sanding sugar. Bake on 425 for 20 minutes, reduce to 375 and bake until bubbly, approximately 40 minutes.