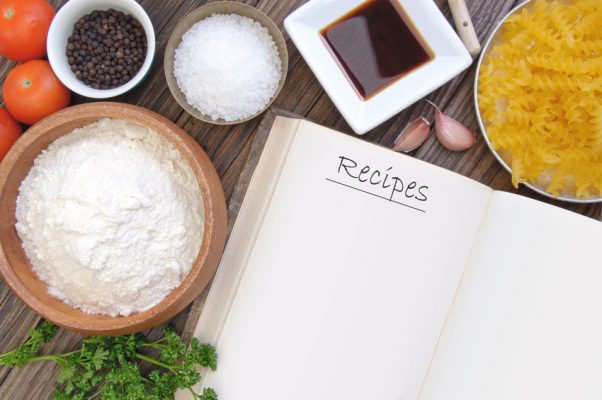 Open recipe book surrounded by cooking ingredients
APPLE-HERB VICHYSSOISE
One of the first "serious" cookbooks I remember buying was Albert Stockli's cookbook published after he had retired from Restaurant 21 in New York City. He helped set the stage for fine dining in the big city. He was a real fan of vichyssoise and especially with fruit in it – – so this adapted recipe is in remembrance of him!
Serves 6 – 8
1-1/2 cups chopped leeks, white part only
1/2 cup chopped onions
1/4 cup chopped celery
1 pound peeled, cored, and chopped tart-sweet apples, such as MacIntosh or Gravenstein
1 tablespoon olive oil
1/2 pound peeled and chopped potatoes
2-1/2 cups rich vegetable stock or chicken stock
1/2 cup dry white wine
1/4 cup apple brandy, such as Calvados, or 2 tablespoons dry sherry
1-1/2 cups half and half
4 tablespoons minced fresh herbs such as chervil, chives, tarragon, basil, or parsley
1 teaspoon minced fresh mint
Salt and freshly ground white pepper
Garnish: Chive flowers if desired.
In a large stockpot, heat the olive oil. Add the leeks, onions, celery, and half of the apples and sauté until soft but not brown. Add the potato, stock, and wine. Simmer, partially covered, until vegetables are very soft. Remove from the heat. Add the Calvados and the remaining apples. Transfer to a blender and puree, in batches if necessary, until very smooth. Strain through a fine mesh strainer. Add the half and half and the herbs. Refrigerate until well chilled. Correct the seasoning with salt and pepper.
To serve, ladle into chilled soup bowls. Garnish with chive flowers if using.
COLD FRESH CANTALOUPE SOUP
Serves 6 – 8
There are so many varieties of melons in the summer market. Use any that you like. For an interesting visual twist, cut the recipe in half and separately puree a green fleshed melon such as honeydew and ladle into bowl simultaneously with orange fleshed cantaloupe soup to create a "yin – yang" effect. Very "cheffy"!
8 cups cantaloupe, seeded, and cut into 1/2-inch chunks
1 cup yogurt
1 cup fruity Gewurztraminer or Riesling wine
1 tablespoon fresh lime juice
1 tablespoon honey (or to taste)
1/2 teaspoon freshly grated nutmeg
2 teaspoons finely chopped fresh mint
Pinch of salt and drops of hot sauce to taste
Garnish: A swirl of pureed and strained raspberries or blackberries, mint leaves, and edible flower petals, if desired.
In food processor or blender, puree all ingredients except garnish until smooth. Pour into a bowl and chill for at least 2 hours for flavors to blend. Can be made up to a day ahead. Garnish with berry puree, mint leaves, and flowers.
Recipes courtesy of Chef John Ash