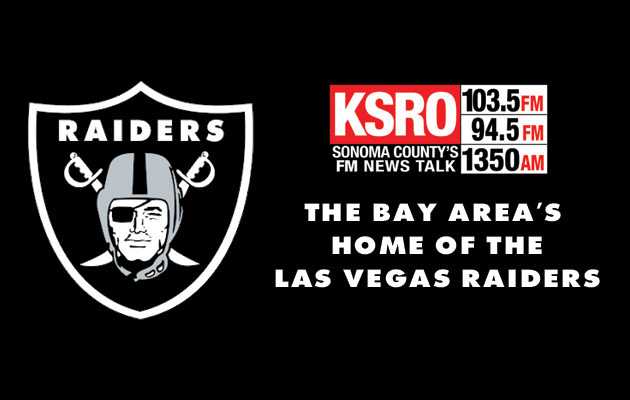 Football season is back and we've got the full season schedule for the Las Vegas Raiders!
Raiders broadcasts on KSRO are powered by EcoSteel.  Learn how they can take your residential or commercial design project to the new level RIGHT HERE.

Check out the full schedule below.
Note: Games are on KSRO broadcast radio only, 1350 AM, 103.5 FM and 94.5 FM.
| | | | |
| --- | --- | --- | --- |
| Day: | Date: | Time: | Opponent: |
| Sunday | 09/13/20 | 10:00 AM | @ Panthers |
| Monday | 09/21/20 | 4:45 PM | Saints |
| Sunday | 09/27/20 | 10:00 AM | @ Patriots |
| Sunday | 10/04/20 | 12:45 PM | Bills |
| Sunday | 10/11/20 | 10:00 AM | @ Chiefs |
| Sunday | 10/18/20 | | BYE |
| Sunday | 10/25/20 | 4:45 PM | Buccaneers |
| Sunday | 11/01/20 | 10:00 AM | @ Browns |
| Sunday | 11/08/20 | 12:30 PM | @ Chargers |
| Sunday | 11/15/20 | 12:30 PM | Broncos |
| Sunday | 11/22/20 | 4:45 PM | Chiefs |
| Sunday | 11/29/20 | 10:00 AM | @ Falcons |
| Sunday | 12/06/20 | 10:00 AM | @ Jets |
| Sunday | 12/13/20 | 12:30 PM | Colts |
| Thursday | 12/17/20 | 4:45 PM | Chargers |
| Sat./Sun. | 12/26 or 12/27 | TBA | Dolphins |
| Sunday | 01/03/20 | 12:45 PM | @ Broncos |
*Schedule is subject to change