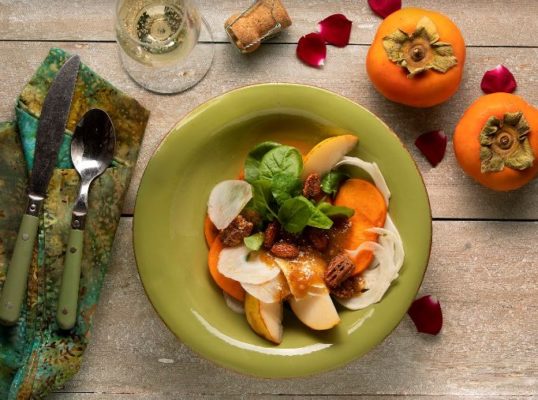 JAMES BEARD'S PERSIMMON BREAD
Makes two 9-inch Loaves
Using the higher amount of sugar will produce a moister and, of course, sweeter bread. Adapted from Beard on Bread by James Beard.
3½ cups sifted flour
1½ teaspoons salt
2 teaspoon baking soda
1 teaspoon ground nutmeg
2 to 2½ cups sugar
1 cup melted unsalted butter and cooled to room temperature
4 large eggs, at room temperature, lightly beaten
2/3 cup cognac, bourbon or whiskey
2 cups persimmon puree (from about 4 squishy-soft Hachiya persimmons)
2 cups walnuts or pecans, toasted and chopped
2 cups raisins, or diced dried fruits (such as apricots, cranberries, or dates)
1. Butter 2 loaf pans. Line the bottoms with a piece of parchment paper or dust with flour and tap out any excess.
2. Preheat oven to 350 degrees.
3. Sift the first 5 dry ingredients in a large mixing bowl.
4. Make a well in the center then stir in the butter, eggs, liquor, persimmon puree then the nuts and raisins.
5. Bake 1 hour or until toothpick inserted into the center comes out clean.
Storage: Will keep for about a week, if well-wrapped, at room temperature. It takes well to being frozen, too.
SALAD OF FENNEL, PEARS, PERSIMMONS AND TOASTED PECANS WITH A FIG VINAIGRETTE
Serves 6
This is a great salad for the winter months which takes advantage of seasonal ingredients. To make it more of a substantial course, drape some paper-thin slices of prosciutto or coppa around the plate.
3 cups mixed savory greens such as arugula, watercress, tat tsoi, endive and/or radicchio
1 firm Fuyu persimmon, sliced thinly into rounds
2 ripe pears, sliced in wedges with cores removed
1 small bulb fresh fennel, sliced thinly
Fig Vinaigrette (recipe follows)
1/2 cup pecan halves, lightly toasted
Arrange greens, persimmons, pears, and fennel attractively on plates, drizzle some fig vinaigrette over and top with pecan halves.
Fig Vinaigrette
Makes about 1-1/4 cups
1/2 cup coarsely chopped dried figs
1 1/2 cups apple juice or cider
1 teaspoon minced fresh thyme (1/2 teaspoon dried)
1 tablespoon finely chopped shallots
4 tablespoons sherry vinegar
1/4 cup olive oil
salt and pepper to taste
Combine dried figs and apple juice in a small saucepan. Bring to a boil. Reduce heat and simmer uncovered for 6-8 minutes or until liquid is reduced by 1/3. Pour fig mixture into a blender and puree. Pour into a mixing bowl. Whisk all other ingredients and season with salt and pepper. This if desired with apple juice. Store covered and refrigerated for 3 days.
STEAMED PERSIMMON PUDDING
Serves 8
This is from Marion Cunningham. She says "There are persimmon puddings and there are persimmon puddings. This ends the search — it is the best. The color is dark, the texture moist and the flavor full and spicy. The pudding may be made ahead and reheated. It may even be frozen.
1 cup persimmon puree (from about 3 persimmons)
2 teaspoons baking soda
8 tablespoons (1/2 cup) butter, at room temperature
1 1/2 cups sugar
2 eggs
1 tablespoon fresh lemon juice
1 tablespoon rum
1 cup all-purpose flour
1 teaspoon cinnamon
1/2 teaspoon salt
1 cup walnut or pecan pieces
1 cup raisins
Instructions:
Choose a Dutch oven or stock pot large enough to hold a 2- quart pudding mold. Place a rack in the pot (a round wire cooling rack or even a canning jar ring will do). Fill the pot with enough water to come halfway up the sides of the mold. Bring the water to a boil over medium heat.
Meanwhile, make the pudding. The pudding mold must have a lid or be snugly covered with foil while steaming (a coffee can with a plastic lid works well). Grease the mold. Put the persimmon puree in a small bowl and stir in the baking soda. Set aside.
Cream together the butter and sugar. Add the eggs, lemon juice and rum; beat well. Add the flour, cinnamon, and salt; stir to blend. Add the persimmon puree. Beat until well mixed. Stir in the nuts and raisins. Spoon the batter into the prepared mold, cover tightly. Carefully place the mold on the rack in the pot, cover the pot and simmer for 2 hours.
Remove the mold from the kettle and set aside for 5 minutes. Turn out the pudding onto a rack.
Serve warm or at room temperature, with softly whipped cream or lemon sauce.
There are two types of readily available persimmons: Hachiya and Fuyu. Fuyus are lovely while still firm; Hachiyas that aren't mushy-soft are shockingly astringent and puckery. To bite into the bitter, tannin-filled persimmon is a traumatizing experience. Ripening times of store-bought Hachiya persimmons may vary from a few days to a month or more, which can be quite frustrating. To hasten the ripening process, put the persimmons in a plastic bag with an apple, then tie the bag shut. The ethylene gas produced by the apple acts as a ripening agent for the persimmons. Generally, I eat the Fuyus raw and use the Hachiyas for baking.
This steamed Persimmon Pudding is wonderful to give as a gift, or to serve for Thanksgiving or Christmas dessert. I have carefully wrapped my puddings and they keep, frozen, for months and months.
John Ash 2020