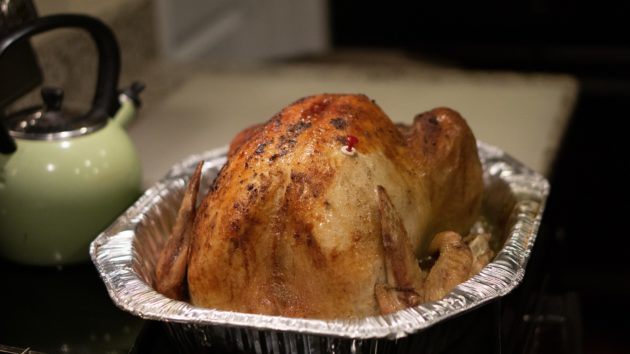 TURKEY TETRAZZINI
Serves 4 – 6
This dish purportedly was named for Luisa Tetrazzini, an Italian soprano who was popular in America in the early 1900's. Beautifully plump, she supposedly once said, "I must not diet. If I diet my face sag". She loved rich pasta with chicken or turkey and mushrooms, and this dish was created for her by an unknown chef. All kinds of variations exist including adding peas, toasted slivered almonds and more. This is a wonderful dish to make with leftover Thanksgiving turkey. Chicken can of course be substituted for the turkey.
4 cups (about 12 ounces) sliced button or cremini mushrooms
6 tablespoons butter
2 tablespoons unbleached all-purpose flour
2 cups rich turkey or chicken stock
1 cup heavy cream
3 – 4 tablespoons medium dry sherry such as amontillado
1/4 teaspoon freshly grated nutmeg
Salt and freshly ground pepper
1/2 pound dry cavatelli or pennette pasta
3 – 4 cups chopped or shredded turkey
1/2 cup freshly grated parmesan or other hard grating cheese
1/3 cup dry breadcrumbs, panko preferred
Sauté the mushrooms in 2 tablespoons of the butter in a heavy 4-quart saucepan until lightly browned and all liquid has evaporated. Set pan and mushrooms aside. Melt 3 tablespoons butter in a small saucepan over moderate heat. Add flour and cook, stirring, for 2 to 3 minutes to make a roux. Gradually whisk in the broth, cream, and sherry. Bring sauce to a boil and then reduce heat to a simmer and cook for 5 minutes, whisking the whole time. Stir in the nutmeg and season to taste with salt and pepper. Meanwhile cook the pasta in boiling salted water until al dente. Drain well. Stir half the sauce into the turkey and the other half into the mushrooms along with the pasta. Transfer mixture to a buttered 8 cup baking dish or casserole and make a well in the center. Spoon turkey mixture into the well. Combine the parmesan with the breadcrumbs and sprinkle evenly over the top along with the remaining tablespoon of butter cut into small bits. Bake in a preheated 375-degree oven for 30 minutes or so or until bubbling and top is lightly golden brown.
Recipe Courtesy of Chef John Ash
ENCHILADAS SUIZAS DE PAVA
Serves 4 – 6
This cheesy, creamy dish originated at a Sanborns cafe in Mexico City in 1950. Its name, "Swiss enchiladas" in English refers to its copious use of dairy. You could use chicken here too and I often make these with crab meat or the slow cooked pork recipe below.
1- 1 ⁄ 2  pounds tomatillos, husks removed and rinsed (about 12)
2 serrano chiles, stemmed
1 cup roughly chopped cilantro
1 cup sour cream
1/2 teaspoon toasted cumin seeds
4 cloves garlic, roughly chopped
2 mild Anaheim chiles, roasted, peeled, seeded, and roughly chopped
Kosher salt and freshly ground black pepper, to taste
1 cup canola oil
3 cups cooked shredded turkey thigh (recipe follows)
2 cups shredded queso Oaxaca or mozzarella
8 (6") corn tortillas
Arrange an oven rack 4″ from the broiler and heat broiler to high. Place tomatillos and serranos on a foil-lined baking sheet and broil, turning as needed, until blackened all over, about 10 minutes. Let cool for about 10 minutes, and then peel and discard charred skins. Transfer to a blender along with any juices, cilantro, sour cream, cumin, garlic, poblanos, and 1 cup boiling water; season with salt and pepper, and purée until smooth.
Set enchilada sauce aside.
Heat oil in a 12″ skillet over medium-high heat. Working in batches, grasp tortillas with tongs and fry in oil until pliable, about 1 minute. Transfer tortillas to a work surface. Place turkey in a bowl and toss with 1 cup enchilada sauce until evenly coated. Divide sauced turkey evenly among tortillas and roll tortillas tightly around turkey. Pour about 1 cup enchilada sauce in the bottom of a 9″ x 13″ baking dish, and place tortilla rolls in dish, seam side down, creating one row down the center of the dish. Pour remaining enchilada sauce over rolls and cover evenly with cheese. Heat oven to 375°. Bake enchiladas until sauce is bubbling and cheese is melted on top, 20 minutes. Remove from oven and let cool for a few minutes before serving with lots of sauce.
Poached turkey thigh
2 cups chopped cilantro stems
1 teaspoon cumin seeds
1 medium onion, chopped
4 large garlic cloves, chopped
2 bay leaves
2 teaspoons salt plus more to taste
1/4 teaspoon red chile flakes
1 cup dry white wine
6 cups water
1 3-pound or so bone in turkey thigh
Add everything to a deep sauce pan or soup pot and bring to a boil. Reduce heat to a simmer and cook slowly until turkey is very tender, about 2 hours. Set turkey aside to cool. Remove and discard skin and bones. Chop or shred turkey meat. Strain poaching liquid discarding solids and season to your taste with salt. Save stock for a delicious soup or sauce base.
Recipe Courtesy of Chef John Ash
MINI TURKEY POTPIES
Makes 4 8 ounce pies
2 tablespoons olive oil
1 medium onion, chopped
8 ounces carrots, cut into half-inch pieces
Kosher salt and freshly ground black pepper to taste
8 ounces cooked turkey, cut into half-inch pieces
2 cloves garlic, chopped
1 tablespoon fresh thyme
¼ cup all-purpose flour
2 cups whole milk
½ cup fresh parsley
1 sheet frozen puff pastry (from a 17.3-ounce package), thawed
1 large egg, beaten
Preheat your oven to 375 degrees.
Put ramekins on a baking sheet and liberally oil them with olive oil.
In a large pan over medium heat, warm your olive oil. Add your onion and sweat. Stir occasionally until tender and translucent, about 5 minutes.
Add carrots and salt and pepper. Again, stirring occasionally, cook until tender, about eight minutes.
Add in your turkey, garlic and thyme and cook for about 30 seconds, making sure to mix all the ingredients well.
Take your flour and sprinkle it over the turkey and veggies. Stir slowly for a minute and then add in the milk. Stir well!
Simmer until your mixture is a bit thickened, around two to three minutes. Sprinkle in the parsley. Remove the pan from the heat.
Evenly divide the mixture into your ramekins.
Cut out four 4 ½-inch rounds from puff pastry and place one round over each ramekin.
Brush the pastry tops with your beaten egg.
Bake your mini potpies until they are golden brown and the pastry has puffed up a bit, around 20 to 25 minutes.
Enjoy!
Sadie Davis-Suskind is an aspiring chef, former "MasterChef Junior" competitor and freshman at Lakeside High School. Instagram: @sadieeatsseattle