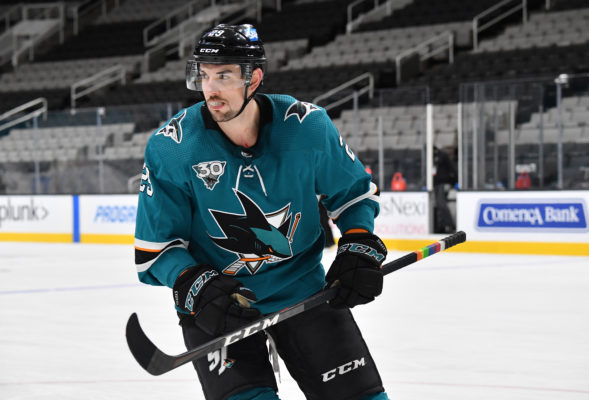 SAN JOSE, CA - MARCH 08: against the St. Louis Blues at SAP Center on March 8, 2021 in San Jose, California. (Photo by Brandon Magnus/NHLI via Getty Images)
Mike DeWald (@mike_dewald)
Listen to the full interview audio with San Jose Sharks Forward Kurtis Gabriel:
San Jose Sharks Forward Kurtis Gabriel didn't let not making the team out of camp deter him from putting in the work to get the call-up.
"It's what I envisioned all summer," said Gabriel," I made change in my personal life and my professional life, I realized I just kept making the same mistakes over and over again and not controlling what I can control."
Gabriel said he worked on his hands and footwork, and played ever scrimmage possible to prove his skills. He said his was determined to do the work necessary to get his skills where they needed to be.
"I just kept thinking 'I'm gonna break through on this team, this is my team, this is going to be my home now," recalled Gabriel.
Gabriel started the season with the San Jose Barracuda, moving up to the Sharks taxi squad, ultimately making his debut midway through the season. Gabriel's hard-hitting, high-energy style filled a void on the Sharks roster. His battles with some of the NHL's heavyweights like Ryan Reaves and Kyle Clifford.
"I'm growing every game, I'm getting more comfortable every game," said Gabriel, "I can't tell you how much I'm enjoying myself."
Besides occasionally dropping the gloves, Gabriel's role goes beyond to keep the Sharks roster loose and energized.
"It's not a show or it's not fake, it's generally who I am," said Gabriel. "the words just come flying out of my mouth – I'm excited and passionate about this game."
As the game of hockey changes and accelerates, so does the role of a team's so-called enforcer. Gabriel says he enjoys the opportunity to jump up into the rush and support the offense, but says it also provides him chances to throw his weight around.
"The way I see it, with the game getting more skilled and all these puck-moving defenseman back there, I mean they're just like shooting fish in a barrel," said Gabriel with a laugh, "they're terrified of me if I come screaming down the ice, then they're going to turn over the puck more often than not and lead to a chance for us."
The forward got immediate attention for his pre-game and mid-game battles with NHL heavyweights, as well as sticking up for teammates that opponents may be taking liberties with. After a pre-game run in with the Los Angeles Kings that led to some additional discipline from the league, Gabriel says he's refocused his passion to between the whistles.
Gabriel brushed off the talk of the team's 'reset' during an up and down season, pointing to a team culture that is growing stronger with everything.
"We're not seeing the end result right now, but we know that the process is really starting to pick up right now," said Gabriel, "It's like the snowball at the top of the mountain."
Gabriel said he can't wait for the day when fans are able to get back into the SAP Center to see a game in person, but says the time without fans allowed him to immediately introduce himself to fans with his play.
"I'm just treating every warm up like there's not another team on the ice anymore," said Gabriel, "I'm going to be focusing a lot more of my attention on my own teams and the fans that will be down in our end as well and I can't wait for those interactions."